Calla lilies are one of the most popular flowers to have in flower arrangements or as flower décor in the home. Their conical shape and wide array of colours make them stand out from other flower varieties and their sturdiness make them one of a florist's favourites too but there is more to this flower than meets the eye. Here's everything you ever wanted to know about the beautiful calla lily.
A simple and refined flower bouquet of yellow calla lilies with accompanying greens.
General Facts about the Calla Lily
Callas lilies are also known as arum lily, trumpet lily, or pig lily. They grow natively in Southern Africa and come in shades of green, pink, red, purple, yellow, orange, and white. They grow from the late spring and can last for weeks. They're so resilient that calla lilies can continue to grow in water and even survive frost! Calla lilies are grown from a bulb, just like a tulip, and are generally easy to grow and maintain.
Additional Facts about the Calla Lily
The calla lily is a perennial bulb.
Calla is a flowering genus of twenty-eight species originating in Africa and growing mostly in marshy areas.
Calla lilies are grown from bulbous roots with finger-like growths, called a tuber.
Calla lily roots are poisonous to both people and pets if ingested.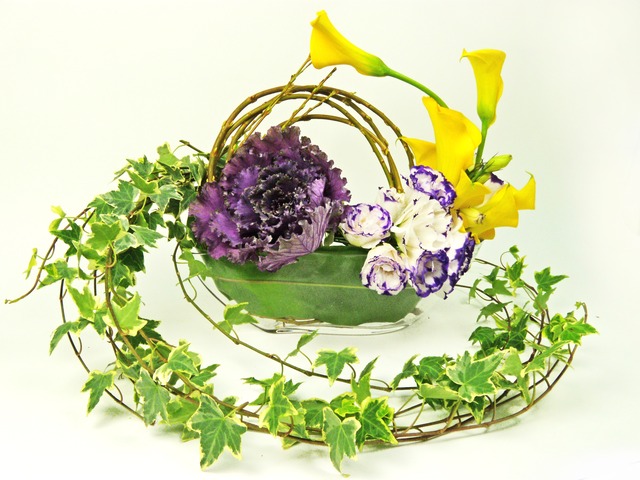 A whimsical flower arrangement with arching yellow calla lilies and English ivy, with purple peony and lisianthus.
Naming Mix-up
What makes this flower so unique is that, despite its name, the calla lily is not, in fact a lily. The calla lily was first cataloged in the mid 1700s by a Swedish botanist named Carolus Linnaeus. Carolus made a classification error while he was naming the species. Later, the German botanist Karl Koch fixed this mistake and created the genus zantedeschia that the calla lily properly falls into but its original name had already stuck.
Related: Flower Facts: All About Lilies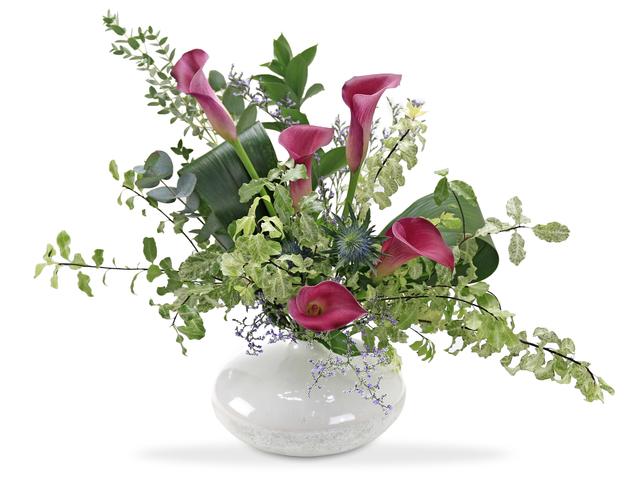 Reddish-pink calla lilies in a decorative vase.
Calla Lily Flower Meaning and Use
Calla lilies have become immensely popular flowers for weddings, romantic arrangements, and holiday arrangements, and even funerals, or any occasion that involves major transitions, rebirths and new beginnings. The word calla comes from the Greek word for beautiful, and it's easy to see why.
For Christians, the calla lily has been used as a symbol of Jesus' resurrection as well as being depicted with the Virgin Mary or the Angel of Annunciation. Meaning that the calla lily has long been associated with holiness, faith, purity, youth, innocence, and rebirth.
From floriography, which was prominent in the Victorian era, classic white calla lilies are traditional symbols of divinity, marital bliss, and true devotion. Calla lilies actually are also used to mark a 6th wedding anniversary. White calla lilies are also used at funerals as well to represent sympathy and the purification of the departed.
Related: The Language and Meaning of Flowers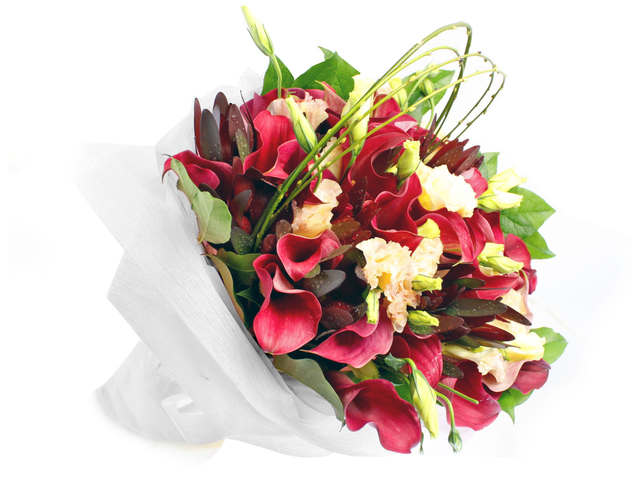 A French-designed flower bouquet of red calla lilies with red Leucadendron and eustoma.
Calla Lily Colour Meanings
White Calla Lily - holiness, faith, purity, youth, innocence, and rebirth.
Pink Calla Lily - admiration and appreciation.
Purple Calla Lily – royalty, charm, and passion.
Yellow Calla Lily - gratitude.
Black Calla Lily - elegance and mystery.
Red Calla Lily - beauty and courage.
What colour of calla lily is your favourite? Include the unique and wonderful calla lily in your next flower arrangement from Give Gift Boutique Hong Kong Florist!
This is a Hong Kong GGB original '
Flower Facts: The Calla Lily - The Lily That's Not Really A Lily
' blogpost.