Funeral flower customs vary across the globe depending on a variety of factors, such as ethnicity, culture, or religion. Funeral service practices have been a long standing part of our human nature as we attempt to honour our dead and ease the pain of grief. Flowers, in many regions and religions, have often been associated with these services as flowers seem to represent the symbolic nature of life and death. If you're attending a funeral service that has a religious belief that is different from yours it can be handy to know what's appropriate in terms of attending the service and what types of gifts are appropriate. Here are few common and popular ways funeral rights and flowers are used in different cultures and religions.
Protestant
Generally, the Protestant community celebrates the deceased person's life with remembrances, testimonials, and tributes. Services are often lead by a minister with the deceased's family and friends. Expressions of sympathy are encouraged in the form of sympathy flowers, cards, attending the funeral service, bringing food and or flowers to the bereaved's home, or donating to a charity on behalf of the deceased and their family. If attending a funeral service it is important to dress respectfully and formally though it is no longer a requirement to wear black.
Roman Catholic
There are similarities to the Protestant tradition in that flowers are appropriate to send to the funeral home or the residence of the deceased's family. Catholics hold a vigil or wake before the funeral as well in which flowers and candles are also used. After the vigil, the funeral mass service is held by a priest which is usually directly followed by the burial. Joining the mourning in prayer and lighting a candle is a common way to partake in the service and provide comfort to the grieving. Concluding the services, many Catholics will attend a reception, usually at someone's home, where food and drinks are shared and mourners can provide condolences to the immediate family of the deceased.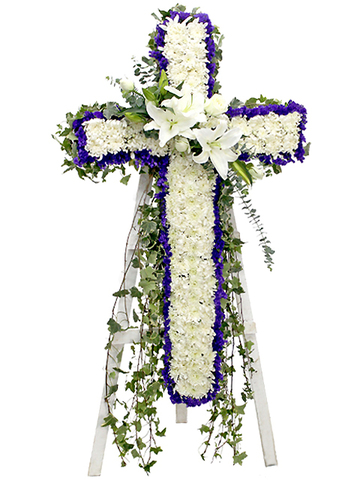 A funeral flower stand in the shape of a cross. Appropriate for a Protestant or Catholic funeral
Mormon Funeral
While a Mormon service will make use of flowers like it's Christian counterparts, using any reference or shape of the cross is not acceptable. The use of a cross or crucifix is not permitted because Mormon's believe in the bodily resurrection of Christ. Funeral services are typically held within a week after the person has passed are typically held at a church, funeral home, or graveside, but not often within the Temple. The service is also often followed the burial which guests also attend. It appropriate to visit the deceased's family before and after the service and if you are attending the funeral, modest and formal attire is required.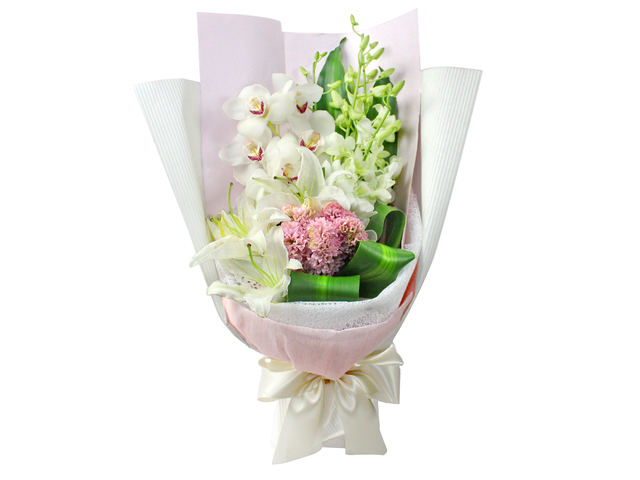 A flower bouquet of white sympathy flowers, include lilies and orchids.
Jewish Funeral
While flowers are usually a safe memorial gift, it is not an appropriate gift in the case of a Jewish funeral. Charitable donations are more appropriate memorial gifts for a Jewish service. In Jewish tradition, the service is performed by a rabbi and the burial must take place within 24 hours of the death. Dark-attire is appropriate for the service itself and men may be asked to wear a head covering called a yarmulke. After the service, the family will commence in custom called Shiva in which they will stay at home and mourn for seven days. During this time friends and family will visit the home to pay their respects and bring kosher food, fruit, and desserts. It is not appropriate to bring flowers to a Shiva, so consider a fruit basket or food hamper instead.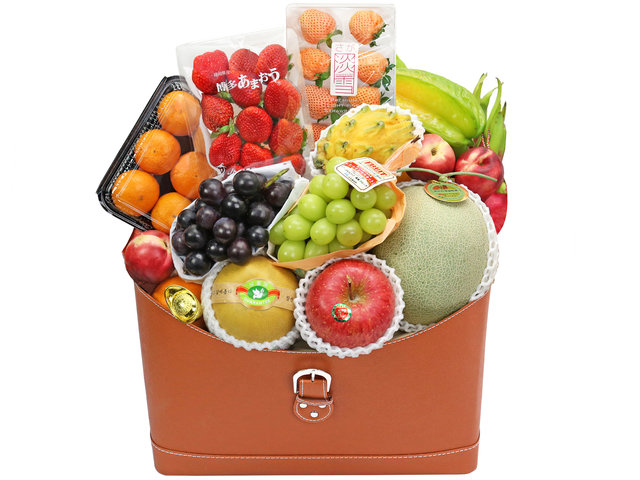 A premium fruit basket with, grapes, mandarins, apples, starfruit, strawberries, melon and more.
Related: Sympathy Flower Etiquette: How to Express Sympathy with Flowers
Hispanic Funeral
Many Hispanics have grown up with or follow Roman Catholic traditions, meaning that flower memorials are accepted and encouraged, whether a simple bouquet, cross-shaped tributes, as well as candle lighting to honor the dead. Hispanic vigils may include mariachis and large feasts as well as laying personal items on the casket to go with the deceased into the after light. Some Hispanics also believe that there are days that the spirits of the dead walk among the living so they are encouraged to pray, talk, and ask for guidance from their loved ones and ancestors.
Hindu Funeral
In the Hindu practice, the funeral service and cremation (not a burial) is generally held within 24 hours of the person's death. Mourners are expected to wear simple white clothing and are not to bring any gifts or memorials whatsoever to the funeral service. Mourners are expected only to acknowledge the family of the bereaved with a simple nod or a hug and are not encouraged to speak to them. Prior to the cremation, guests will view the body and the inside of the casket flower garlands or flower coffin toppers may be adored. 10 days following the funeral service, a ceremony is then held at the home of the deceased where visiting guests often bring a fruit offering.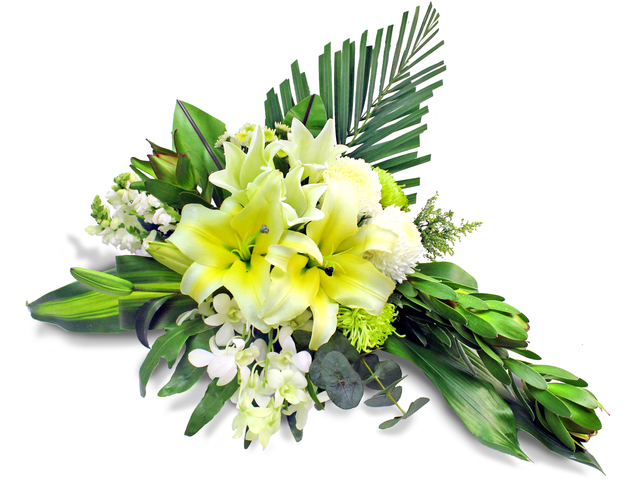 An elegant coffin flower topper with lilies, assorted flowers and greens.
Related: Memorial and Commemorative Funeral Flowers
Buddhist Funeral
White flowers are the perfect gesture to send to the family of the deceased in Buddhist tradition as well as making a donation to a charitable organisation. Refrain however, from sending red flowers or food as it is considered poor etiquette for Buddhists. You are welcome to visit the family after the funeral service but not before it. At the service, the body is often viewed with candles and incense surrounding the body. The service is performed by a monk and visitors are expected to wear black while close family and friends to the deceased wear white. As a visitor you are expected to go to the casket and bow before it, as well as taking the time to greet the family and friends of the deceased. Financial donations to the family are also expected at the service.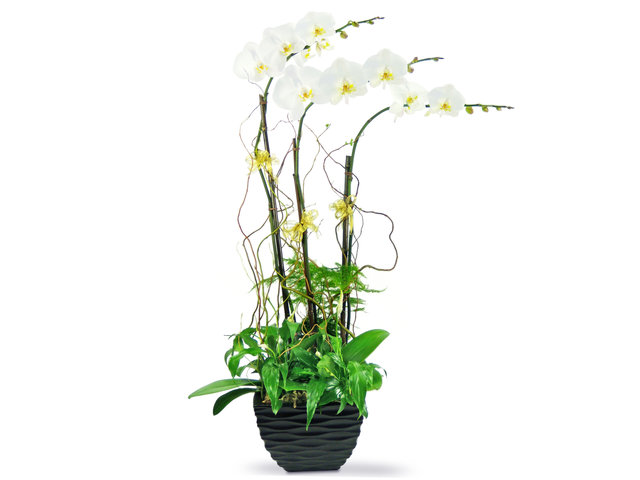 A Japanese-styled arrangement of white orchids.
Asian Funeral
While each Asian culture often has its own tradition, there are few similarities. For example, white or yellow chrysanthemums are appreciated at many Asian funerals for their symbolism of lament and grief and well as yellow being a traditional funeral colour in many Asian traditions. If the funeral service is Chinese, the family will often wear white with no jewelry. It is also important not to wear the colour red as it is traditionally associated with happiness, luck, and prosperity.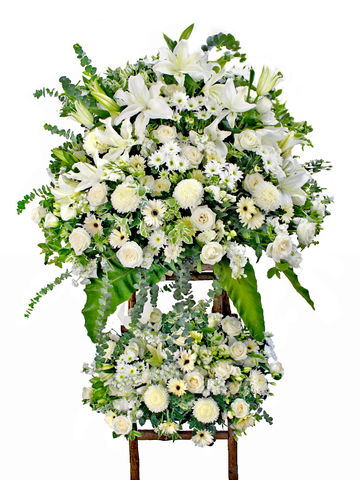 A funeral stand with chrysanthemums, lilies, daisies, roses, and greens.
Muslim Funeral
Opinion varies when it comes to the use of flowers at a Muslim wedding so it's best to ask beforehand if you know you're going to attend a Muslim service. The difference in opinion comes from the Islamic belief on simplicity, which in some Muslim's opinion would make flower gifts extravagant and unsuitable. If flowers are considered appropriate for the service, focus on fragrant flowers like roses or lilies. Single flowers or palm branches are also sometimes placed on the grave after burial.
This is a Hong Kong GGB original '
Flower Funeral Customs by Ethnicity, Culture, and Religion
' blogpost.