Crabtree & Evelyn is a healthcare brand which is full of British elegance and aristocratic feeling. Crabtree & Evelyn's hand cream has been internationally recognized and favored by customers from all over the world. In addition to the excellent skin care products, Crabtree & Evelyn also produces fragrance, home decorations, and natural foods.
This time, Hong Kong Give Gift Boutique will present you the British teabag gifts from Crabtree & Evelyn natural food series. The tea gift collections include the traditional English breakfast tea; the distinctive Earl Grey tea; the refreshing Ceylon tea and Assam tea. The innovative "Green Rooibos, Peach & Cherry tea" and "Green Mango & Bergamot Green Tea" both have refreshing natural flavors. Just by holding the Crabtree & Evelyn tea tin gift box in your hand, you immediately feel like stepping into the beautiful British garden because of the exquisite floral packaging of the gift box. Once you open the tea box, you can smell the aromatic scent of the tea and can't wait to take a sip and enjoy.
Give Gift Boutique highly recommends the Green Rooibos, Peach & Cherry tea as the tea aroma is tempting. This kind of tea is made with mild flavor of rooibos complemented by juicy peach and cherry. The unique pyramid tea bags give the tea leaves more room to move and are able to brew the amazing orange-red color tea. It is caffeine free so pregnant women and children can also enjoy the special tea gift.
Natural aromatic and delicious Crabtree & Evelyn pyramid tea bag.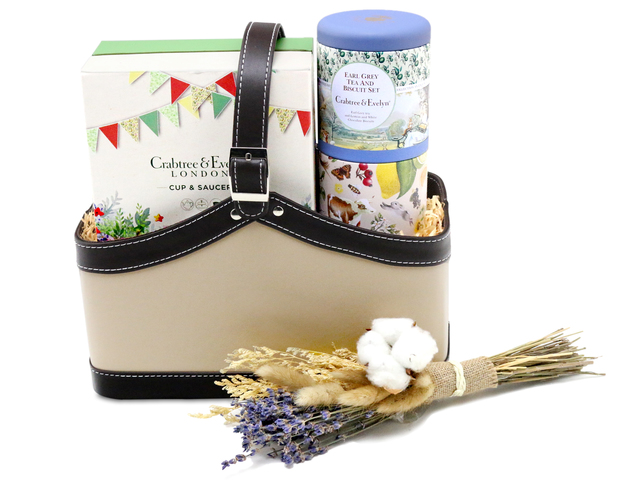 Hong Kong gift shop Give Gift Boutique offers Crabtree and Evelyn Tea ware gift set for those who love English tea so that you can give your favorite tea gift to your friends and family who appreciate it.