As a florist editor, recently I receive many similar questions from friends and family around concerning the same topic: about dried flowers. My sister got a rose bouquet on Valentine's Day and the rose is beautiful. She feels it's a waste to throw it away after a few days and wonder if there's any way to preserve the flowers; my mother received a box of carnation on her birthday and she hates to see the flowers wither, so she ask me if I can create dried flowers to be the long-lasting gifts; my friend had a delicate bridal bouquet on her wedding and she wants to use them to make beautiful dried flowers to keep the good memory, but she doesn't know what to do. Fresh flowers are stunning but won't last long. A bunch of pretty fresh flowers can make us happy and add some beauty to the surroundings, but it's a pity to throw it away after displaying it for a short time. If we know how to make dried flowers, we can extend the beauty of the flowers and enjoy more of it. Making dried flowers is easy; let me introduce 3 ways to make dried flowers.
How to dry flowers- Air drying
Materials: Fresh flowers, Jute Twine/Rubber band, Scissor.
Steps for air drying flowers,
Flowers should be picked close to their prime, so that they can keep the best shape after air drying.
Choose your favorite healthy bouquet; it's best to use the same type of flower or similar shape.
Wrap a small portion of chosen flowers with jute twine, get rid of the foliage or keep one or two leaves for future decoration. The distance between different bouquets is about 6 to 10 cm.
Hang the flowers up side down in a cool place and avoid direct sunlight.
Wait for about two weeks before you see any obvious changes of the fresh flowers.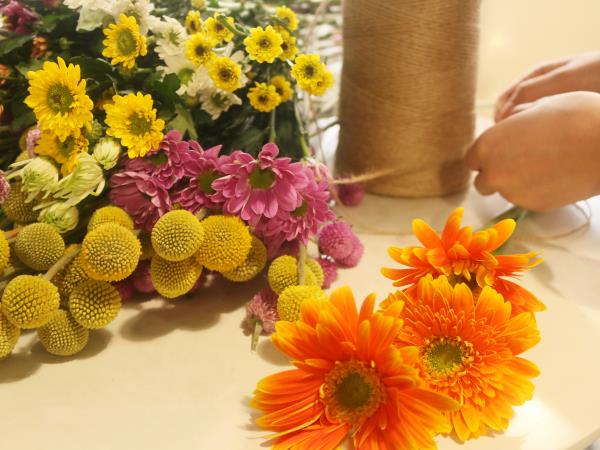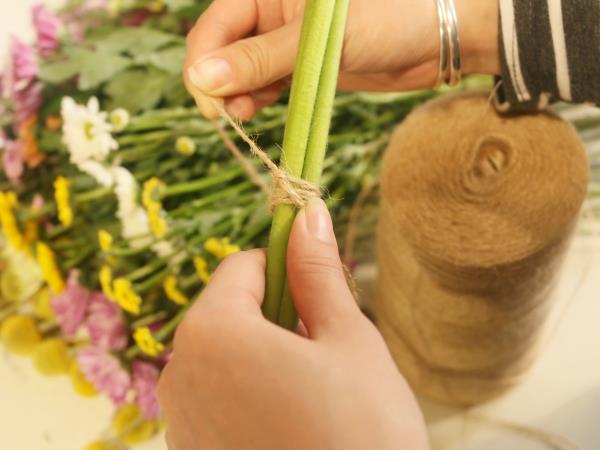 All kinds of fresh flowers can be made into dried flowers and the results sometimes surprise you.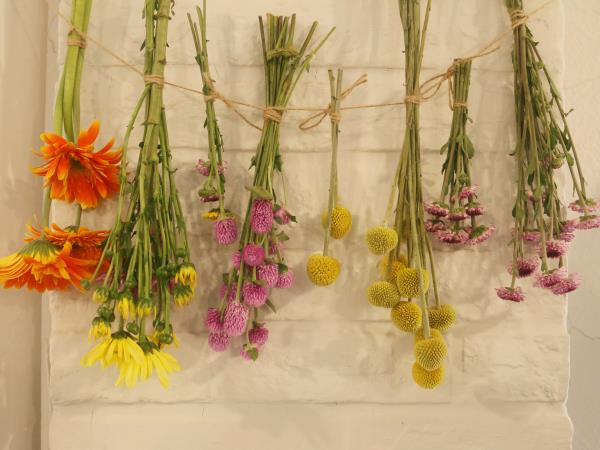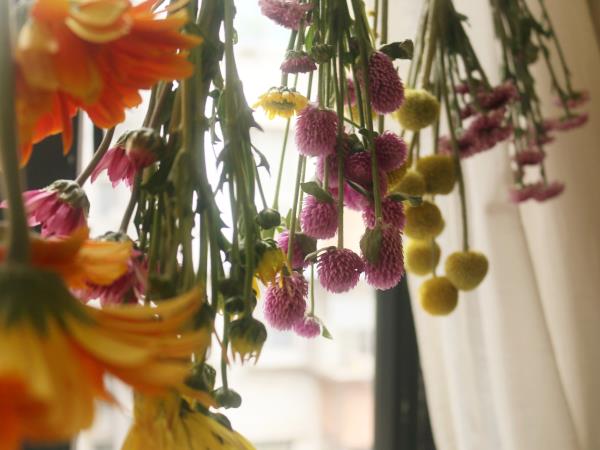 How to dry flowers- Flower drying crystals/Silica Gel
Materials: Professional flower drying silica gel/orange silica gel (mostly used in humid weather to absorb the water), plastic box/glass box, plastic disposable glove, tweezers.
3 steps to make dried flowers,
Orange Silica Gel
Open the box of orange silica gel and slowly pour them into the glass or plastic container.
Prepare 5 to 10 fresh flowers and cut their stems.
Gently place the flowers on top of the silica gel and leave some space for each flower, then close the cover and wait for about 2 weeks to dry. When the orange silica gel turn into green, it means the drying flower process has finished.
We use the heart shape glass box to do this experiment. At first we choose the orange Gerbera Daisy and other fresh flowers to start with.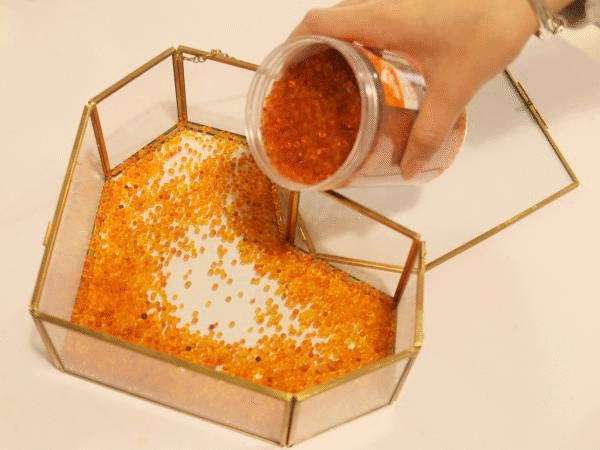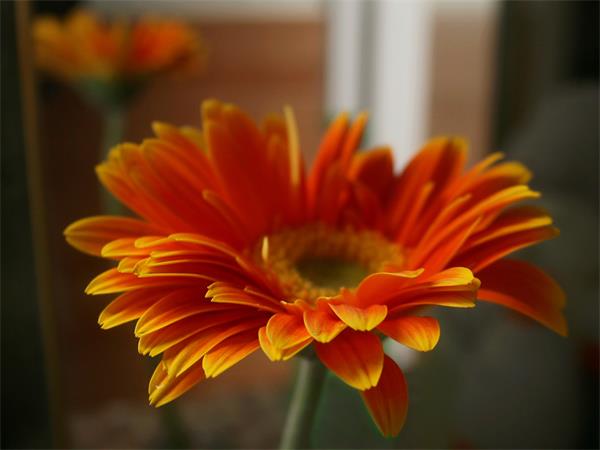 Gerbera Daisy
Place the floral materials into the glass box one by one with the stems into the orange silica gel.
Professional flower drying silica gel
Put on the plastic disposable gloves and mask first, because the Professional flower drying silica gel might cause minor skin irritation so we suggest protecting your hands before using it.
Once you are ready, you can start pouring the silica gel into the glass box slowly and put the cut flowers in the box.
Different to the orange silica gel, we cover the whole flowers completely with this professional flower drying silica gel to reach the best result.
When the florist is ready, we can start to make dried flowers.
After placing the flowers one by one on the silica gel, remember to add more to them until the flowers are fully covered.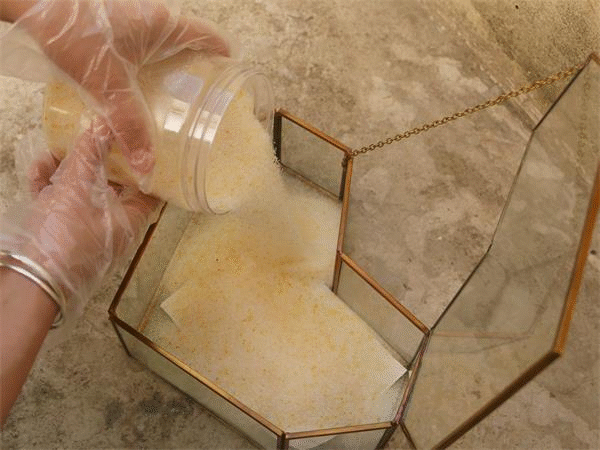 Speedy Microwave flower drying
We didn't try to use microwave to dry flower this time, but we can introduce some simple methods.
Materials: microwave, plate/bowl, salt, white paper
Put certain amount of salt in the bowl first, carefully place the petal/bud in it and then continue to add salt until the floral materials are fully covered. After this, put the bowl in the microwave and heat for 10 to 20 seconds, then the dried flowers are ready to be used.
Wrap the floral materials or leaves with paper, put them on a plate and heat them in the microwave for 10 seconds to 1 minute depending on how dry you want the flowers to be.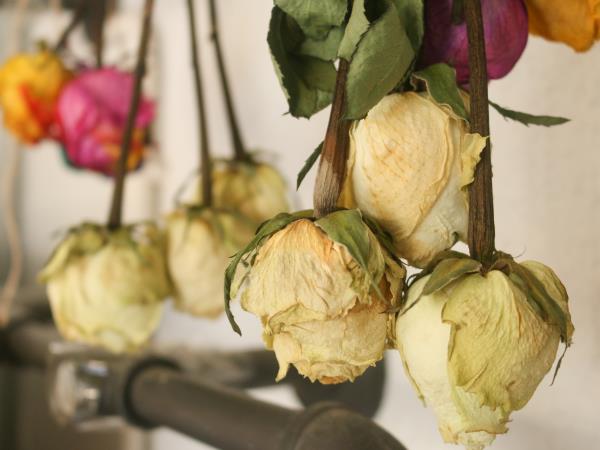 All in all, to turn fresh flowers into dried flowers is much easier than we expected, we encourage everyone to try DIY dried flowers at home.
Related article:
This is a Hong Kong GGB original '
How to create pretty dried flowers?
' blogpost.