Many times we want to send gifts to one other to remember certain occasions or to say "thank-you" to others. For example, we send gifts to mother on Mother's Day to make her happy; we give gifts to our boyfriend on his birthday to surprise him; we send gifts to friends on their wedding to express best wishes. Hong Kong Give Gift Boutique has more than 2000 gifting products including fresh flower and fruit gift basket, gourmet food gift hamper and preserved flower music box gift etc. Recently we launch many exclusive relax gift boxes that will help you relax in your busy daily life. These relaxation gift sets are designed for those who want to have a more relaxed lifestyle-a sweet and affordable gift for you.
First of all, we'd like to introduce to you our Relax gift box R1. After a long busy week, we all want to enjoy some freedom to relax at the weekend. Give Gift Boutique Relax gift box R1 is a good choice for you. Choose your favorite book; light up the Australian Botanica Naturale Candle with pleasant smell; make a cup of Japanese European blend coffee and enjoy some fun reading. After that, give yourself an eye spa using the microwave heated Australian Wheatbags Love handmade Eye Pillow. After doing all these with our relax gift basket, you will be able to calm down and be less stressful, ready to meet the new challenges.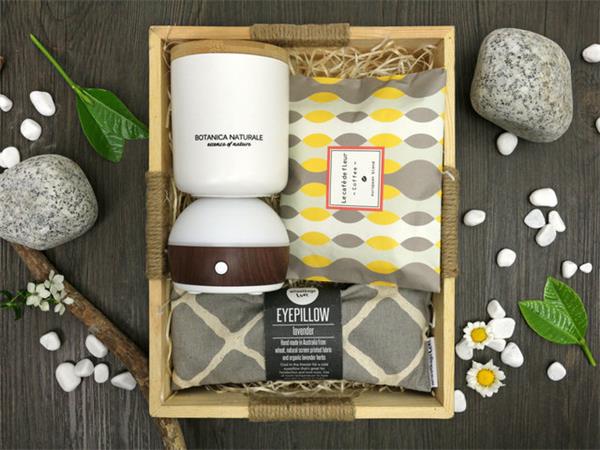 If you heard that your girlfriend, family or friends complain about not sleeping well, we recommend you to send them this Relax gift box R3, which is very suitable for those who want to increase their sleep quality as well as pursuing a high quality lifestyle. First use the UK Kemp Aromatherapy Treatments bubble bath melt to enjoy a relaxing bath, then use the Hydrea London exfoliating spa mitt to buff away dead skin cells while helping the removal of toxins. Before going to bed, enjoy a cup of UK Whittard of Chelsea Dreamtime Instant Tea and wear the Australia Wheatbags Love handmade Eye Pillow to prepare for the long-awaited deep sleep. This gift box is designed and made exclusively by our Give Gift Boutique. There is also a bunch of dried flowers inside, which will make you feel cheerful when you open the box.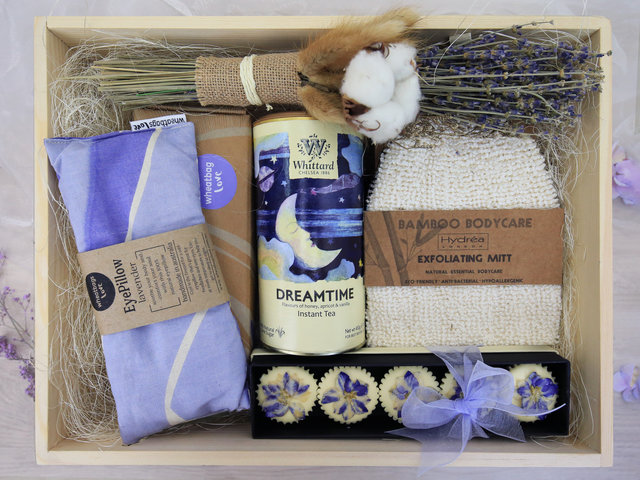 The above are the latest Relax, Comfort, and Lifestyle Gifts which are the combination of high quality imported gift products with customized packaging. They are the perfect relax gifts for personal use or send to friends and families-a unique gift box expressing your love and thoughtfulness.
This is a Hong Kong GGB original '
Relax gifts box series
' blogpost.