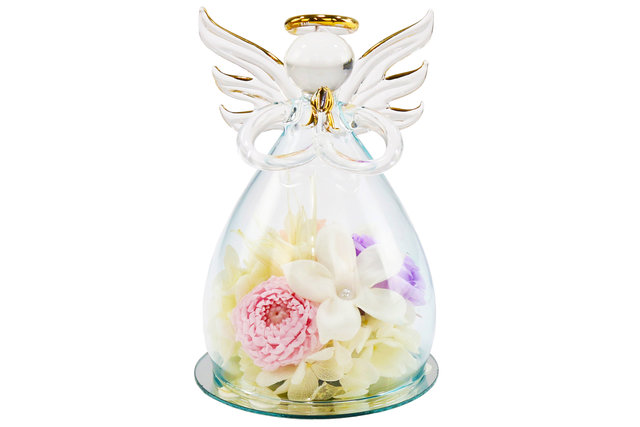 + reference product photo
All Product Photos (click to select)
Guardian Angel Preserved Flower Decor M41
'Guarding Angel' mini preserved flower table decoration. Designed by our professional florist, handmade with all Japanese imported flower materials and display case, this mini glass angel gift showcases the excellent electroplating technique from Japan. It can be placed anywhere like desk or bookshelf. The guarding angel is like someone who loves you and wants to help you in any difficult circumstances, to give you courage and strength. The flower gift set including preserved materials as follows:
Japanese imported lavender purple small rose
Japanese imported peach small rose
Japanese imported white Jasmine
Japanese imported white Hydrangea
Imported dried flower materials/leaves
Japanese imported guarding angel mini display case.

Add to Saved Items
This gift comes with the exlusive British Metalic card booklet (HK only) (what's that?)
Approx. Reference Dimension

Width: 8 cm x Height: 13 cm x Length: 8 cm (equals Width: 3 in. x Height: 5 in. x Length: 3 in.)
Listed Catalog Pages & Stats