Mid-Autumn Festival is just few weeks away, if you are planning on mooncake shopping for yourself and as a gift, you may be delighted to read our market study on mooncake brands preferred by Hong Kong citizens and what's new this year, come shop with us.
The Peninsula Mooncake
With the luxurious hotel impression and the widely-accepted taste, the peninsula mooncake, representing HK style, sells well overseas. It's also considered an ideal selection for business gift. Based on the past record, The peninsula Spring Moon and the iconic egg custard mooncakes sells out very soon. Two new chocolate&custard mooncakes have been added this year. The exquisite moon cake degustation gift box with lantern design and 3D flower decorations conveys the premium taste of peninsula.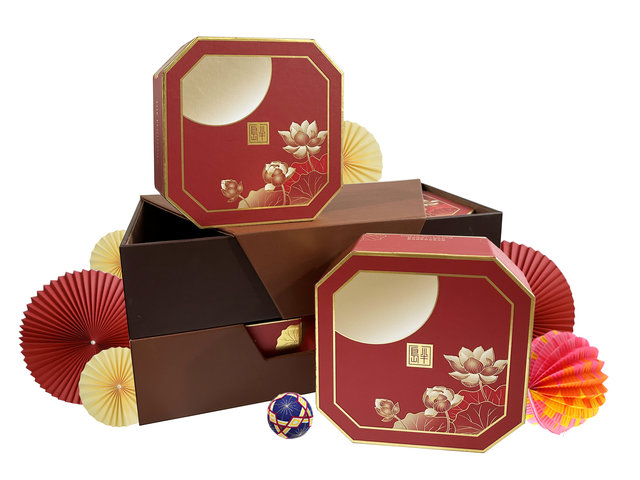 Related: The Peninsula Mooncakes Early Bird Discount Available Now
Kee Wah Bakery Mooncake
Kee Wah inherits and performs the traditional craftsmanship, its delicate mooncakes enjoy great remarks and adds great memory to the Mid-autumn festival reunion moment. Popular Kee Wah Mid-autumn festival products include salted egg yolk with lotus seed paste mooncake, Jinhua ham with five kernel mooncake, Eu YanSang preserved citrus peel and bean paste mini mooncake, etc. This year, Kee Wah collaborates with Disney Mickey & friends and produces crossover mooncakes and shopping bags.
Maxim Mooncake
Maxim mooncake have always maintained an active market exposure by hiring local celebrity and artists to represent the brand image, in order to present the concept of innovation & tradition. Maxim produces a wide range of mooncakes such as the classic style lava egg custard mooncake, salted egg yolk with lotus seed paste mooncake, ham with five kernel mooncake, bean paste mooncake, as well as several new-style mooncakes including the ice skin mooncakes with Bird's Nest/mixed fruit/Musang Kang durian filling and low-sugar mooncake. As for this Mid-autumn festival, Maxim launched three crossover cartoon mooncakes with namely Line friends, Toy Story and Disney characters.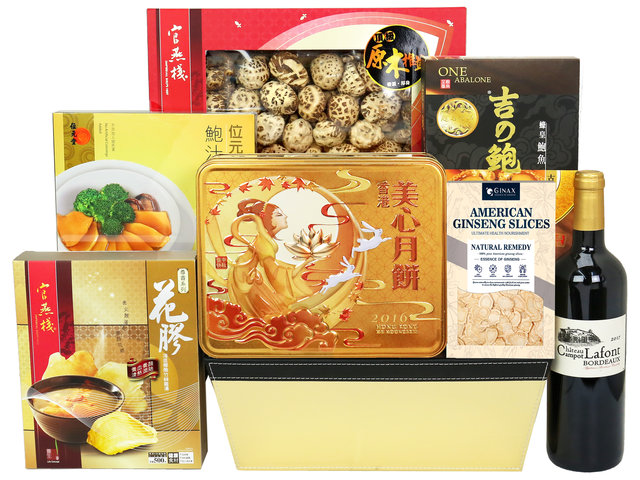 Taipan Ice Skin Mooncake
The Taipan Ice Skin Mooncake is manufactured in HK. The mooncakes perfectly mingles with Hongkong-style dessert, with outstanding ingredient combinations and ice skin with delicate&cotton-like and glutinous texture, Taipan Ice skin mooncake has lots of loyal customers. Taipan was the first to launch Ice skin mooncakes with premium bird's nest , which brings ice skin mooncake to a next luxury level.
WingWah Mooncakes
Hong Kong's old mooncake baker with a history of 70 years. It mainly focuses on traditional mooncakes, such as salted egg yolk with lotus seed paste mooncake, five kernel mooncake and bean paste mooncake. The familiar taste and nostalgic box design really bring up the old memories.
Star Hotel and Restaurant Mooncakes
Star rated hotels and restaurants such as hotel Mandarin Oriental and Ritz Carlton and restaurant Lei Garden also offer their mooncakes and other festive gifts such as pastry and sausage. In addition to the surprising packaging design with novel structure and strong festive atmosphere, customer can experience the Mid Autumn Festival tradition of redeeming mooncakes at designated hotels and restaurants with vouchers.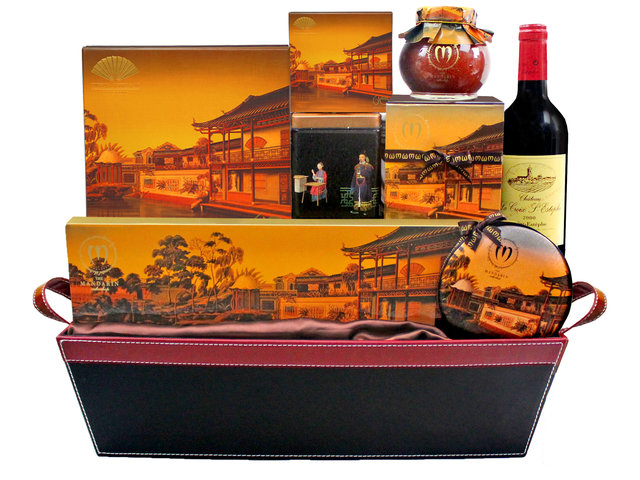 HangHeung Bakery
The over 100-year-old HangHeung Bakery is famous for its wonderful pastry and desserts, which are popular gifts for emigrants who return and visit HK. In addition to the salted egg yolk with lotus seed paste mooncake, lava custard mooncake, ham and five kernels mooncake and bean paste mooncake, this year they also offer the Uji Matcha with black sesame mooncake, ovaltine lava custard mooncakes, and its star product, the crispy skin mooncakes with mochi center.
Häagen-Dazs Ice Cream Mooncake
Häagen-Dazs continues presenting multiple ice cream mooncakes with crunchy chocolate crust, featuring themes such as the moon, assorted flowers, fairy rabbits as well as the collaboration of Disney Centennial and the palace museum crossover.
Entry Luxury and Trendy Brands Mooncake
The New York dessert brand Lady M makes an arch gift box with vegan leather and suede this year. Six small drawers are installed on both sides of the arch, containing three flavors of mooncakes: grapefruit milk, matcha & pandan leaves and rose lychee egg custard. Each flavour comes in two pieces. After you finish the mooncakes , the gift box can be used as a jewelry box.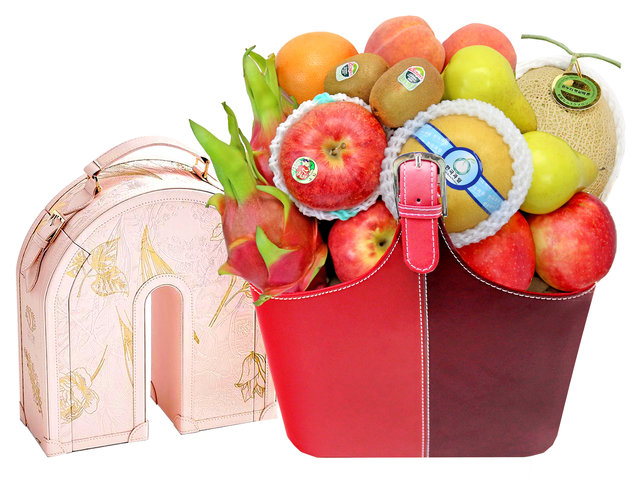 Agnes B yoghurt strawberry mooncake gift Box comes with a starry projection torch, allowing you to enjoy the childhood fun of playing lanterns and the mooncakes at the same time.
Starbucks brings us the mermaid rolling lantern mooncake gift box this year, including three flavors of mooncakes: Black sesame, oat milk egg custard and lava caramel coffee.
Reign applies the Michelin one star cooking technique to making mooncakes, creatively infusing precious ingredients such as South African abalone and truffles to egg custard filling to provide a luxurious dining experience. The packaging elements is inspired by the artwork of masters Picasso, Van Gogh, and Monet, perfectly interacting visual art with food savour.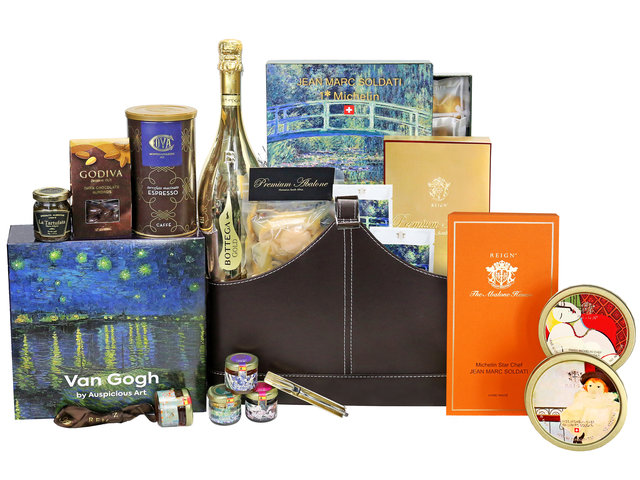 Give gift boutique offers Mid-Autumn Festival gourmet hamper and Mid-Autumn Festival fruit hamper, various gift options for you, your family and clients. Gift combination of all kinds of wine, beverage and quality food, festival and selected imported fruit, carefully selected popular and novel mooncakes, packaged with multiple surprising styles. With online order system 24/7 available, we deliver the gifts to door through 18 regions of HK , same day delivery available for several styles. Many more Mid-Autumn Festival great gifts at Give Gift Boutique.
This is a Hong Kong GGB original '
Mooncake Shopping Guide: Mooncakes preferred by Hong Kong Citizens and the Selling Points
' blogpost.