What's the one colour that you can't get enough? Your absolutely favourite? The one that you love enough to use in everything? Maybe it's a vivacious red? Or a royal purple? Whatever colour makes you smile, bring more of it into your life with a creative flower arrangement from your favourite florist. While rainbow or jewel coloured arrangements are definitely pleasing, when you love a certain colour nothing is more satisfying then having it be the main bouquet focal point. Check out these amazing flower arrangements that bring out the best your favourite shade!
Red Box Flower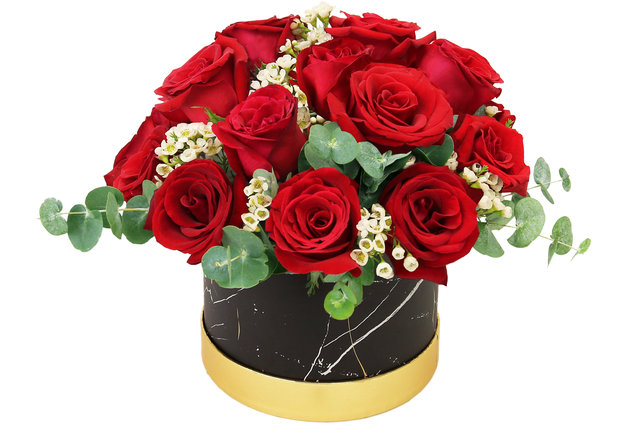 Roses are red! Nothing brings out the bold shade of red they way roses do. This creative flower box comes with wintersweet and matching greens to help bring out the luscious shade of red from the roses. Get this beauty delivered to your red-loving friends and family with Give Gift Boutiques flower delivery service.
Blue Flower Bouquet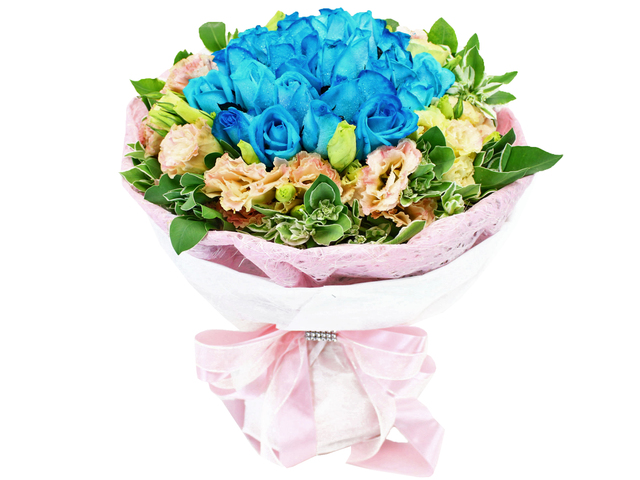 While blue isn't always a natural shade for certain flowers, it's hard not to love this bouquet of carefully coloured blue roses. An expert florist can bring out some amazing shades of blue in a variety of different flowers. This blue bouquet of 30 roses is complimented by eustomas and the fresh pink bouquet packaging.
Pink Flower Decor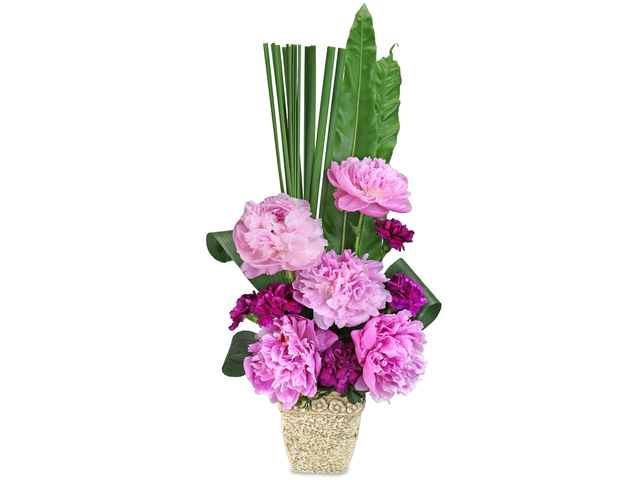 What's not love about pink? From blushing to vibrant, pink comes in such a wonderful variety of shades that always welcomes a luxurious and delightful feeling. If you've got a serious love for all things pink this expertly arrangement British-designed flower arrangement of pink peonies and carnations is for you.
Yellow Bouquet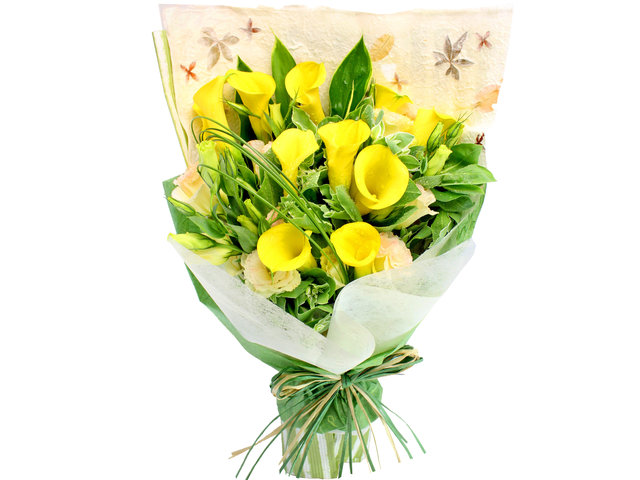 Ahh yellow, the colour of sunshine, warmth, and fun! Yellow-lovers have a lot of flowers to choose from in their favourite shade, like sunflowers and daisies, but I bet you hadn't considered the calla lily? Check out this stunning flower bouquet with yellow calla lilies as the centerpiece of this flower bouquet.
Related: What Flower is Associated with your Birth Month?
Orange Flowers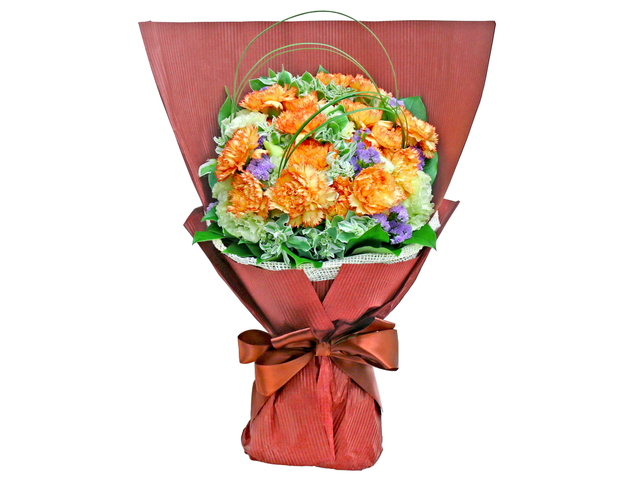 Not quite red and not quite yellow, orange is a hearty colour that can be both loud and subtle, depending on its shade. This orange carnation flower bouquet highlights both these qualities of orange with the darker and bold tips and more subtle centers of the flower.
Green Flowers
The colour most associated with nature, growth, and health, making green an easy colour to love. While green is often a supporting act when it comes to flowers, it still has the capacity to steal the show. Take this rose and hydrangea flower bouquet. The green hydrangeas take your gaze away from the champagne coloured roses with all its green vibrancy.
Related: Flower Facts: The Magic Flower – All About Hydrangeas
Purple Flower Bouquet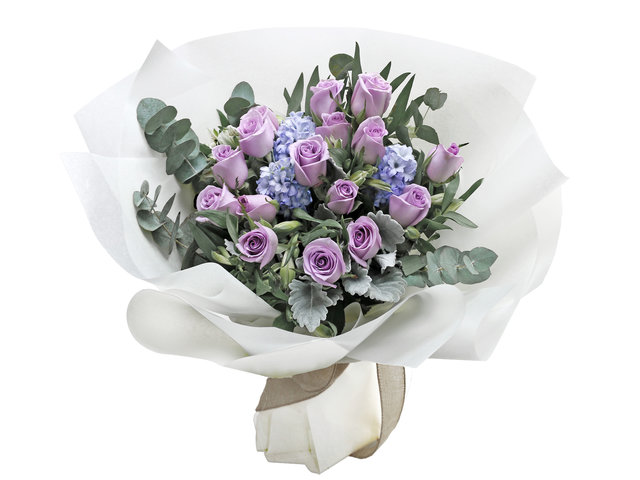 Often associated with royalty, purple-lovers definitely have a regal and refined taste. Purple, regardless of the flower, has a way to creating and setting the tone and mood of a flower bouquet with it's dynamic shades. This French designed flower bouquet gives off the tone of delicacy and professionalism and would look wonderous in a purple-lover's place of work.
Related: Finding the Right Flowers for Your Business
White Flowers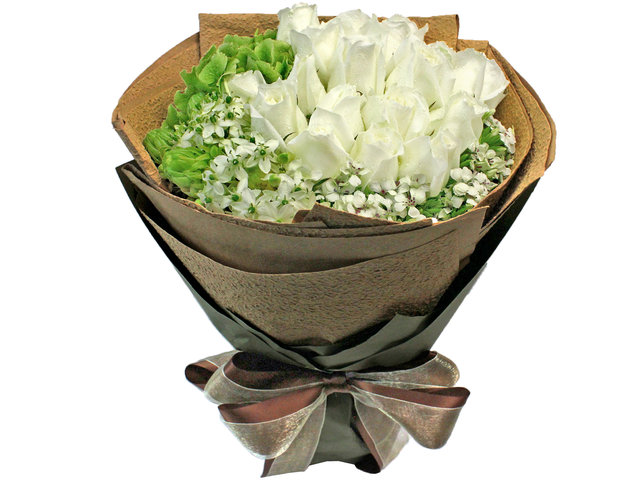 Classic, simple, clean, elegant. If you're a fan of white it's one of the easiest shades to include in your flower décor. White shades help balance out other flower colours in a bouquet but when white is paired with some subtle greens it has a way of standing out on its own. This simple bouquet of white roses is so beautiful it speaks for itself.
Black Flowers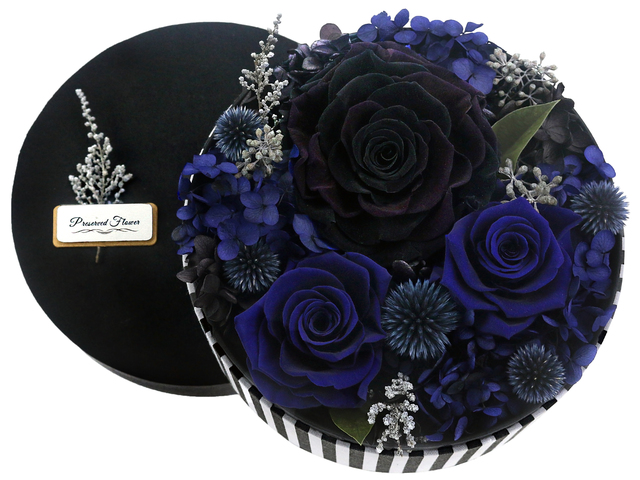 Sure, black isn't the most common shade for flowers but if it's your favourite colour there are some great gothic designs out there to fit your style. Take this gorgeous box flowers with a black rose at its center. The rose is surrounded by dark navy blue roses as well as black and grey décor to really bring out the shade of black.
This is a Hong Kong GGB original '
Creative Flower Arrangements in Your Favourite Colour
' blogpost.