Christmas is celebrated in many ways around the world but one thing that is consistent is the integration of some form of Christmas flower or décor. If you've ever wondered if there was a special meaning or legend behind your favourite Christmas flower, Give Gift Boutique Hong Kong Florist has rounded up some of the most popular Christmas flowers and their traditional meanings or origins.
Poinsettia
While not technically a flower, the poinsettia has become synonymous with Christmas in North America. This plant has bright red, pink, or white leaves with lush green foliage mimicking the colours of the Christmas season. Poinsettia's Christmas origins come from the lower half of the continent in Mexico, with a legend that refers to a small child who was too poor to find a gift to give to give to Christ on Christmas eve. All the child was able to give him was some weeds and when they were given they bloomed into the brilliant red and green poinsettia as the humble Christmas gift was given with love.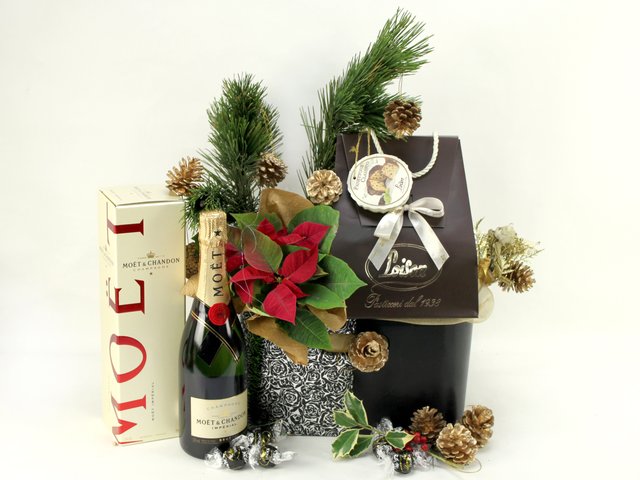 This festive Christmas hamper would make a wonderful gift for an expat friend or co-worker. Complete with a poinsettia, champagne, and chocolates.
Mistletoe
Mistletoe is often hung from doorways, arches, and ceilings during Christmas time. Mistletoe dates back before the celebration of Christmas as it was used by Pagans in their winter celebrations. The tradition of kissing under the mistletoe could possibly be of Norse origin but no one knows for complete certain. There are two types of mistletoe, the native North American kind, Phoradendron flavescens, and the native European kind, Viscum album.
Related: Hong Kong Best Christmas Gift Hampers
Amaryllis
Red and white amaryllis have become popular Christmas flowers due to its big, beautiful, and colourful blooms that add a dash of colour to winter. Christmas use of the amaryllis can date back the 16th century with a hybrid amaryllis called 'St. Joseph's Staff'. Amaryllis, in Greek means, 'to sparkle' making it an even more appropriate flower to have at Christmas.
This festive flower bouquet contains red amaryllis, red roses, cotton, hyacinth, and matching greens.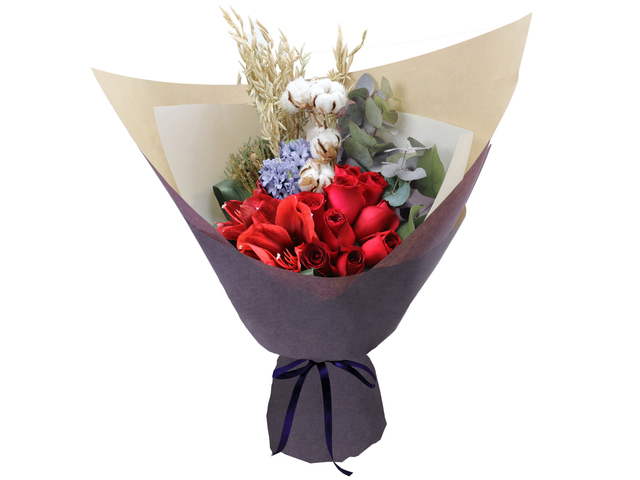 Related: Best Christmas Baskets and Flower Arrangements to Send Internationally
Holly
Holly is one of the most recognisable and prominent Christmas garlands. It's often used in wreaths and variety of other Christmas décor. Holly has both Pagan and Christian symbolism; Pagans believe it wards off evil spirits whereas Christians believe that it symbolises the suffering of Christ with the bright red berries representing drops of blood and the green evergreens representing eternal life. There are two different types of holly, American holly (Ilex opaca) and English holly (Ilex aquifolium).
Hellebore or the Christmas Rose
Commonly known as the Christmas rose, winter rose, or snow rose, this flower is one of the few that bloom during the winter months in the mountains of central Europe. While not technically a rose, as it belongs to the buttercup family, this flower gets its name due to its resemblance to wild roses. Christian legends say that a young and poor Shepard began to cry when she saw the decadent gifts brought by the wisemen as she had nothing to offer. An angel heard her weeping and swept away the snow to reveal this beautiful flower which she presented to the new born baby Christ.
Related: Rose Colours and Their Meanings
Evergreen Wreath
Due to their circular shape, evergreen wreaths have often symbolised ever-lasting life, eternity, or the eternal nature of God. Hanging a wreath on a window or a door is suppose to indicate that the Christmas spirit dwells within this home. The evergreen aspect of wreaths has Pagan roots too in that evergreen tree types were considered to have healing properties and then with the rise of Christianity people adapted their traditions to include the evergreens in a circular shape to indicate finding life in Christ or eternal life.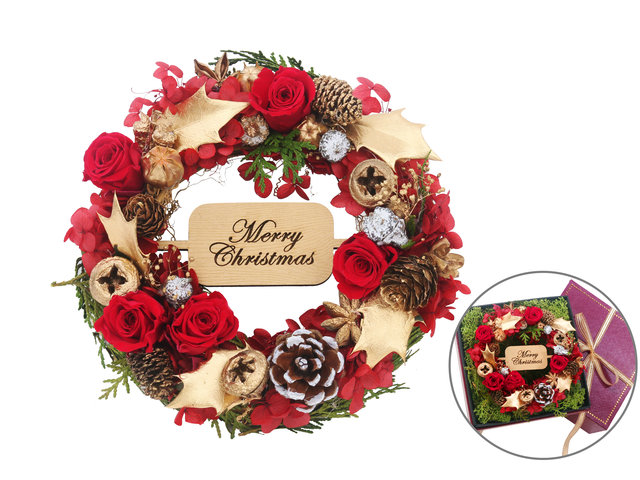 A handmade preserved flower Christmas wreath with wooden Christmas greeting.
Christmas Cactus
This tropical flowering plant isn't actually a cactus but a type of succulent that flowers during the winter and Christmas season. It's a popular indoor plant and Christmas gift because of its hardiness and for its beautiful red and pink flowers. This succulent looks great in hanging pots and in Christmas centerpieces.
Related: Best Gifts and Flower Arrangements to Bring to Christmas Dinner
This is a Hong Kong GGB original '
Popular Christmas Flowers and their Meanings
' blogpost.