There is no better way to help and support someone when they're feeling sick or under the weather than with the support of family and friends and, of course, some wonderful flowers or health hampers. If someone you know has been feeling unwell or has to spend some time in a hospital for surgery or recovery, why not help speed up their recovery with a special arrangement of flowers, gifts, or health supplements. Florists know best when it comes to selecting get-well flowers and hampers as they can have them specially arranged and delivered to where ever you need them. Give Gift Boutique Hong Kong Florist has selected some of their most coveted recovery arrangements so that you can find the perfect get-well gift.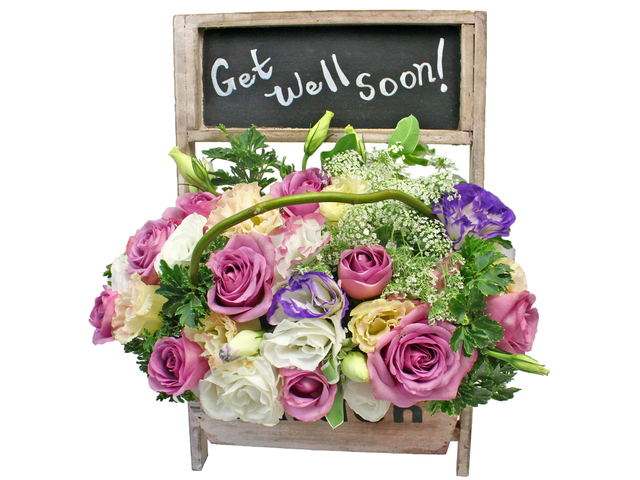 This is a classic get-well flower basket that contains artfully arranged purple and white roses with additional floral décor. As this arrangement is already in a basket it's suitable for a bedside delivery to a hospital or home. When making delivery arrangements, it's important to consider the vessel that the flower arrangement is in as the hospital or patient may not have the resources or ability to place it in a vase or container. A beautiful container and arrangement such as this one is ready to be viewed and admired all on its own and is easy to maintain.
Related: Flower Delivery for Every Occasion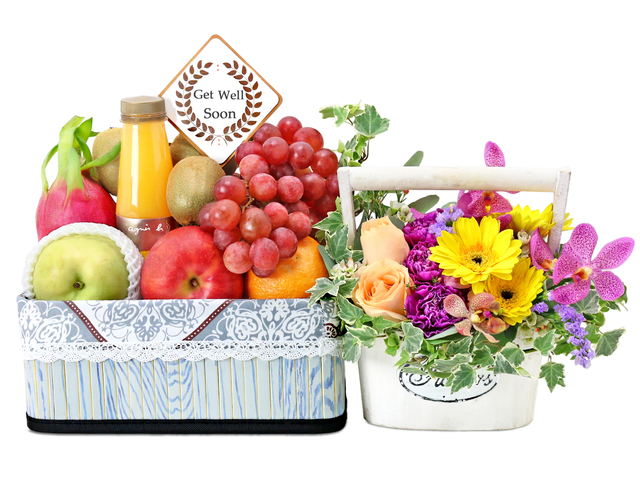 An apple a day, right? Fruit is packed full of vitamin C, an important vitamin required for a healthy immune system. This is what makes a fruit basket an ideal get-well or recovery gift, especially if you pair it with a lovely flower arrangement for some added smiles. This particular hamper comes with six different types of fruit basket, a small juice, as well as flower arrangement of roses, daisies, mokoras, and English ivy in a decorative basket.
Related: Breathe Better! Top 7 Plants and Flowers For Better Indoor Air Quality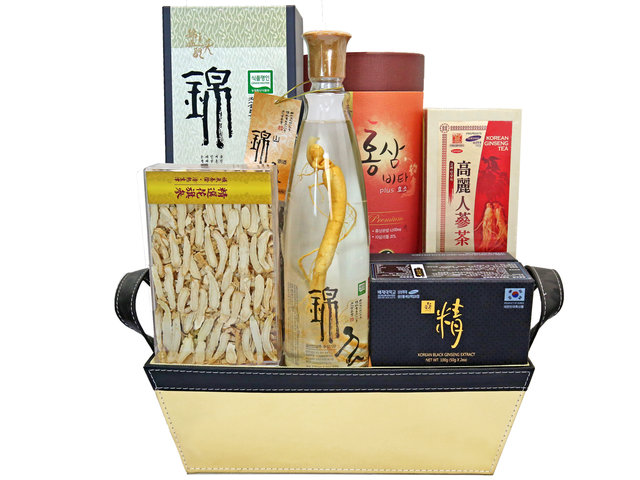 Chinese medicine and supplements are popular remedies for ailments in Hong Kong for a reason as people swear by their healing properties. If you're looking for a more practical get-well hamper, this ginseng-based health care hamper is an ideal choice, especially for those that are managing a prolonged illness or hospital stay. This health hamper contains Nampeihong ginseng folk liquor or Eu Yan Sang deer's antler tonic wine, Korean ginseng, VITAPLUS Ferment, Korean ginseng tea bags or M5 Tea Adventure, and Imperial Bird's Nest North American Ginseng.
Related: A Guide to Gift-Giving in Hong Kong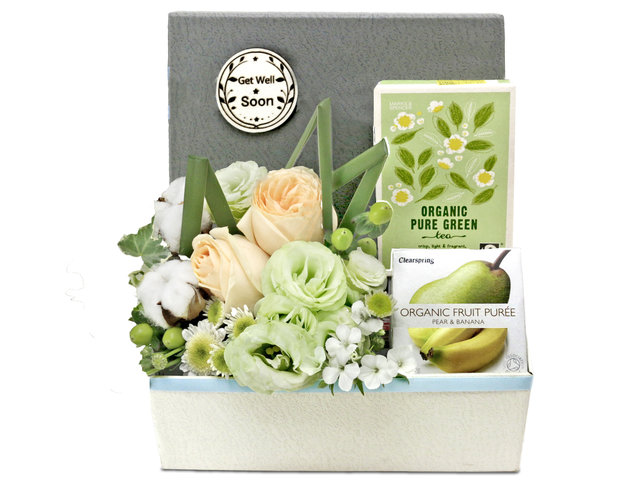 If you want a get-well gift that's small and easily delivered but still thoughtful, take a look at this flower box arrangement. The colours are gender-neutral making it good for either sex and is appropriate for a loved one, friend, family, co-worker or boss. It also comes with a few pick-me-ups to help with recovery, such a box of organic green tea which, is known to help with digestion, as well as some tasty organic fruit puree which, would make a helpful treat for anyone with a sore throat or tonsillitis.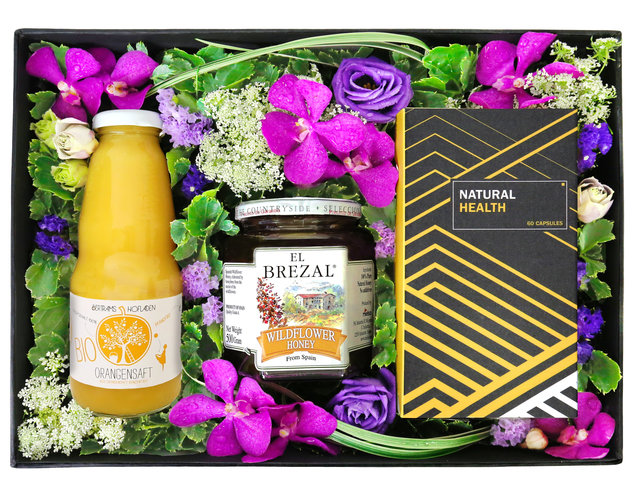 If you want a get-well gift that has it all, this perfect recovery box is it. Surrounded by a beautiful flower arrangement of roses, mokoros, and accompanying greens, is a bottle of organic juice that's high in vitamin C, a large jar of honey which, is great to add to cups of hot tea or water for those that have a sore throat or fever, as well as bottle of 60 pill supplements to help support a healthy immune system. Have this gorgeous recovery box delivered to a friend or family member's home when they're unwell and they'll be thrilled, and recover faster too.
This is a Hong Kong GGB original '
What to Give When Someone is Feeling Unwell
' blogpost.