What sorts of occasions deserve a trip to your local floral shop? Flowers are literally the perfect gift for nearly every occasion you can think of but if you need an excuse to purchase some flowers either for yourself, a loved one, a friend, or a co-worker, Give Gift Boutique Hong Kong Flower Shop has detailed all of the most common occasions that bring people to their shop.
Birthday Bouquet
Image by Jill Wellington from Pixabay
Nothing says 'happy birthday' quite the way flowers do, especially with all of the different selections and colours to choose from. You can pick a bouquet of someone's favourite flowers or in their favourite colours along with a personalised message and gift for the perfect birthday combination.
View Give Gift Boutique's selection of birthday flowers and gifts here.
Related: Best Birthday Gifts for Milestone Birthdays
Bouquets of Anniversary/Wedding/Engagement/Valentine's Day
Image by Terri Cnudde from Pixabay
Flowers are one of the most important items when it comes to planning a wedding or engagement and are traditional gifts for most romantic events and endeavors. The flowers are as symbolic as they are beautiful so consider the theme or colour of the event when selecting the flowers. You also can't go wrong with red roses as a traditional symbol of love and romance.
Related: Language and Meaning of Flowers
Graduation Flowers
Image by Leonardo Alvarado from Pixabay
Graduations are a time for major celebration as it's important to acknowledge and recognise all the hard work and effort made by the new graduate to reach their goals. Take into consideration the colour of the graduate's gown when selecting flowers and consider accompanying the flowers with a teddy or balloon to make for exceptional photos.
View Give Gift Boutique's selection of quality graduation flowers and gifts here.
Sympathy/ Funeral Flowers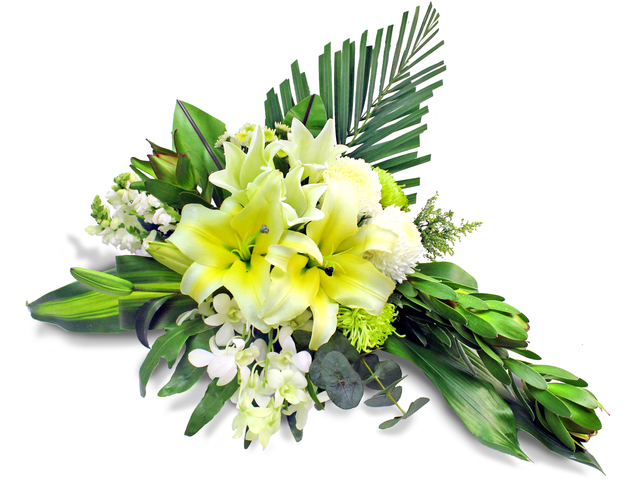 It's hard to know what to say or do for someone who is grieving, this is why it's best to let flowers do the talking in terms of expressing sincerity. Consider solemn colours for the flowers, so nothing too vibrant, such as white, yellow and green. Lilies are a wonderful flower to convey sympathy with and they work well in both bouquets, coffin toppers, and funeral stands/wreaths.
View Give Gift Boutique's commemorative funeral flower wreaths and stands here.
Related: Memorial and Commemorative Funeral Flowers
Grand Opening flowers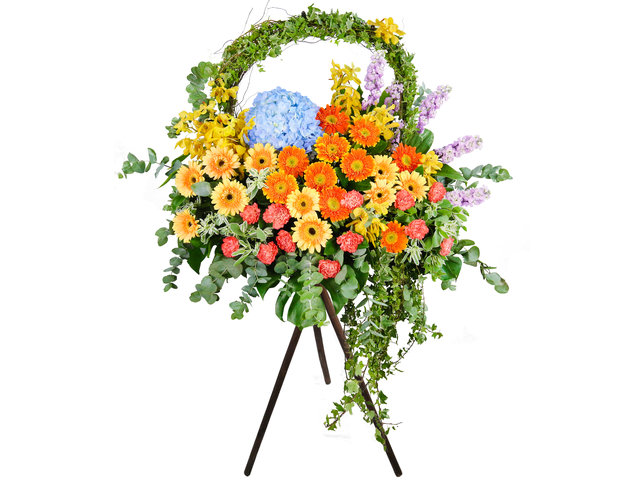 When a new business opens there is no better way to make a statement or to garner attention than with grand opening flower stands. A tradition that is common in Asia, flower stands are purchased for businesses on the day of their grand opening to usher in good luck and fortune. Large, vibrant flower stand arrangements are then accompanied with messages and well-wishes. An expert florist can create amazing, eye-catching, and creative stands that are truly works of art.
View Give Gift Boutique's selection of grand opening stands here.
Related: The Best Grand Opening Stands
Get Well Soon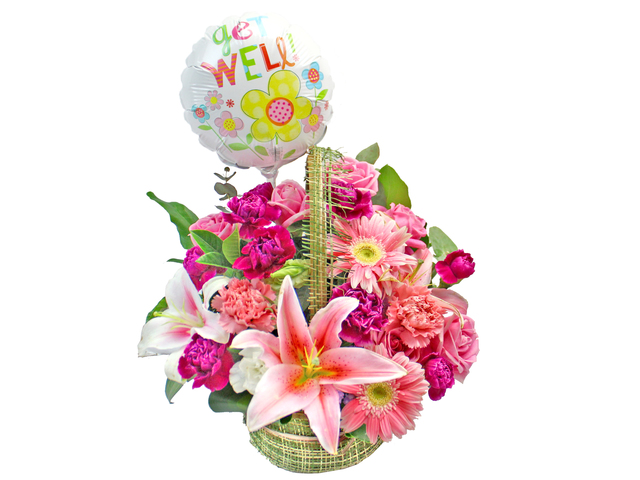 Whether it's a surgery, accident, illness or complication, flowers are a wonderful way to uplift someone's spirits after spending time in a hospital or after a period of being unwell. Colourful blends of flowers with accompanying get-well messages that come in baskets or vases are best for this scenario as they can easy accompany someone's bedside.
View Give Gift Boutique's selection of get well flowers and gifts here.
Give Thanks/Show Appreciation
Photo by Giftpundits.com from Pexels
Did someone go that extra mile for you? Help you out with a difficult project or situation? Say thanks and show your appreciation with flowers. Any type of flower works to say thank you but if you're looking for some deeper meaning consider something with dark pink roses, as they symbolise deep appreciation and thanks.
New Home
Image by pixel2013 from Pixabay
Purchasing or moving into a new home, especially here in Hong Kong, is a massive achievement and what better way to welcome someone into a new environment than with a big fragrant bouquet of flowers. When selecting flowers for new homeowners, go with flowers that are in season to better suit the atmosphere and environment.
New Baby
Image by Pixabay from Pexels
One of life's most momentous occasions deserves to be celebrated with flowers. Consider bouquets with daisies and carnations for their light and subtle scent instead of flowers that may be have too potent of a smell for new and sensitive little noses.
View Give Gift Boutique's selection of flowers, gifts, and hampers for newborn babies and parents here.
Apology
Image by freestocks-photos from Pixabay
Whether it's a spouse, friend, family member or co-worker we've all had incidences where we've needed to say sorry. Giving flowers is one of the most sincere ways to reconcile differences no matter who the recipient is.
Related: Best Luxury Gifts for Her
Mother's Day/Father's Day Flower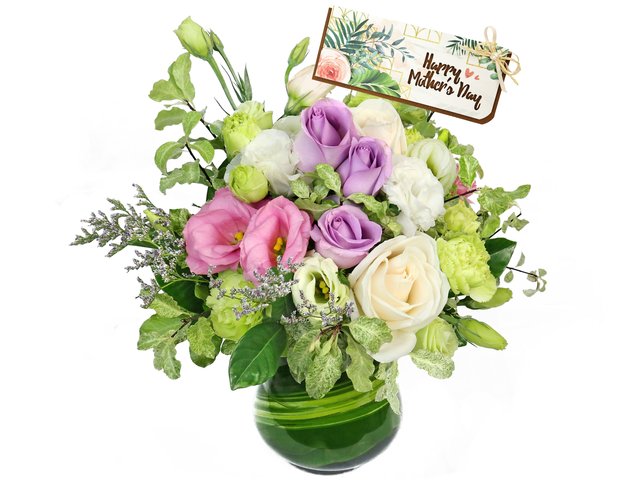 It's important to take the time to acknowledge and appreciate our parents, so when mother's day and father's day comes around give the gift of flowers to let them know how much you care. Lilies and carnations are typical mother's day gifts but even dad's like flowers too so consider a bouquet of solid coloured or neutral flowers for dad.
View Give Gift Boutique's selection of Mother's Day and Father's Day flowers and gifts.
Related: Father's Day Gifts and Flowers
Holiday Gatherings: Christmas/Chinese New Year/Easter/Mid-Autumn Festival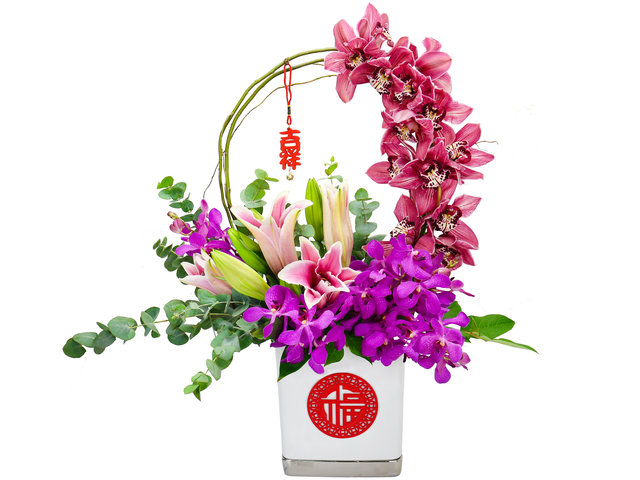 Most holidays would not be complete without flowers, like Christmas, Easter or Chinese New Year. Flowers embody the togetherness we experience during holiday gatherings and are often symbolic of the holidays themselves with their unique floriography. So make sure to hit up your local florist before your next holiday gathering!
View Give Gift Boutique's selection of Christmas hampers, Easter flowers, Mid-Autumn Festival gifts, and Chinese New Year flowers.
Related: Perfect Christmas Flower Arrangements
This is a Hong Kong GGB original '
Suitable Occasions to Buy and Give Flowers from Flower Shop
' blogpost.