Sending floral gifts to your dear ones like mother, wife or girlfriend is always a good idea. However, there are exceptions. For those who are pollen-sensitive, sending any fresh flower gifts to them is not very thoughtful. As we know, sending flowers to loved ones is a kind of romantic action. How to avoid pollen yet receive lovely flower gifts? Give Gift Boutique has some good gift suggestions for you!
Mr.K is a new father who always needs to work overtime. After his new baby was born, he realized he didn't spend enough time with his wife, so he decided to send a romantic gift to his wife on the tenth day of the baby's birth to show appreciation and love. However, his wife is allergic to pollen so cannot receive fresh flower gifts. On the other hand, any fruit gift basket or gourmet food hamper is not enough to express his romantic feelings. So, what kind of floral gifts can make Mr. K's wife happy without suffering from pollen sensitivity? We especially pick two floral gifts for him to choose, they are flowers with no pollen.
1. Preserved Flower Music Box M28. This music box gift is designed with preserved flowers which are as pretty as real fresh flowers. The preserved flowers are light pink roses, Hydrangea, mini roses, small white orchid and the matching greens. The exclusively designed round glass vase goes beautifully with the light pink music box base which looks lovely and cute. When you turn on the music box, not only can you hear the beautiful melody, but also see the pretty preserve flowers rotating. What an enjoyment from this preserved flower gift.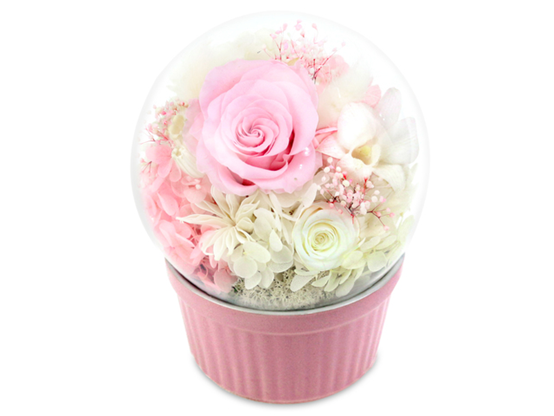 2. Dotty Bee Baby Gift Bouquet. This vivid "flower"bouquet is full of surprises, just open the flowers inside will make you feel like a magician! This lovely baby flower gift can turn into various baby gifts like winding cloth, hat, a pairs of socks, bodysuits and bib. Flowers for his wife and baby gifts for the little one, this baby flower gift can satisfy Mr.K's need to send gifts to his beloved ones.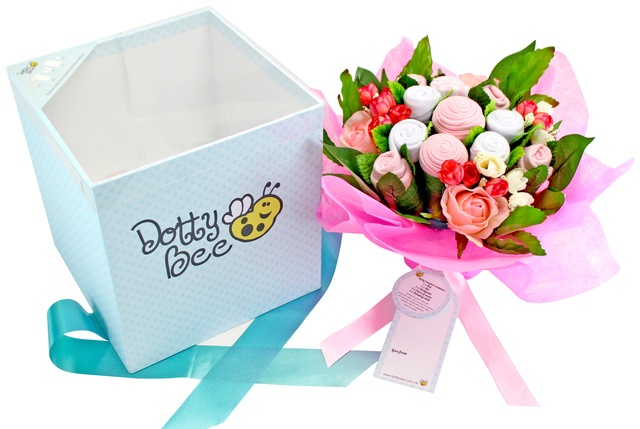 Mr.K is very pleased with our gifts proposal. After considering the gift options, he finally chose the lovely Dotty Bee Baby Gift Bouquet. His wife receives the romantic flower bouquet while their baby uses the "flowers" afterward. Give Gift Boutique hopes all the gift recipients can be happy and satisfied when they receive our flower bouquet or gift baskets, so we will continue to search for the practical and interesting gifts to you from around the world.
This is a Hong Kong GGB original '
The right gift for the right person
' blogpost.