The importance of Mid-Autumn Festival in China is second only to that of the Chinese New Year. The arrival of the Mid-Autumn Festival means that major part of the year has passed, and autumn is a season for harvest, in addition to the essential food of our Mid-Autumn Festival - mooncake. Since the ancient Chinese times, autumn fruits have been the best companion for mooncakes. The big and round grapefruit is like the full moon on August 15th; the apple means peace; the starfruit has a happy meaning; the persimmon means that everything goes well, and the sweet green-house melon can be shared with the warm family. The Mid-Autumn Festival is just the time for the grapes to mature, so how can we forget the grapes? With the development of MAF gifts, the variety of mooncake gift baskets has increased. Apart from the traditional mooncakes and fruits, the wine gifts, tea gifts, and many different Chinese and Western food and snacks have become very popular as well! Mid-Autumn Festival is not just a time for Chinese to enjoy the festival cuisine; sending gifts is also a very important part of the Mid-Autumn Festival. Hong Kong Give Gift Boutique Florist offers a one-stop shopping experience for customers in Mid-Autumn Festival. No matter what kind of Mid-Autumn Festival gift-food-hamper that you need,HK GGB can help you.
One of the significance of the Mid-Autumn Festival is to get together with families to enjoy a great time. However, there are people who work away from their hometown or study abroad, and they have various reasons that they cannot get back together with their families on this special Mid-autumn Festival. Sending gifts to families from a distance is another way to make up their disappointment. Your family members will be very pleased to receive you MAF gifts and know that you still care for them even though you are not around them at this moment.
As the saying goes:" At home one relies on one's parents and outside on one's friends." When parents are not around us, a group of friends are our closest "family". We have received help and support from our friends in our lives, but sometimes it's a bit awkward to say thank-you because we are too familiar with each other. Why not take this Mid-Autumn Festival opportunity and send a mid-autumn gift hamper to your friends to express your gratitude? A delicious gourmet food MAF gift basket is definitely a great gift to make your friends feel respected and appreciated.
For those who have been in the workplace for a long time, working with colleagues and bosses takes up more of their time than spending with friends and families; this forms a special relationship among workmates. When we encounter obstacles at work, our co-workers are willing to offer help; when we work closely with our colleagues, we feel happier and more relaxed at work. On the other hand, if we choose an appropriate time to send gifts to our supervisors and thank them for their understanding and support, we are able to show our appreciation and work together better in the future.
HK GGB Flower Shop Mid-Autumn Festival Gift Hamper Recommendation
Agnes b. Mid-Autumn Mooncake & Fruit Hamper M48 has an elegant packaging. The gifts inside include the most eye-catching Hotel Peninsula Mid-Autumn Egg Custard Mooncakes, Japanese and Korean imported permium fruits and the French brand Agnes b's gift products, all-together make the gift basket a decent MAF gift to send to friends and family.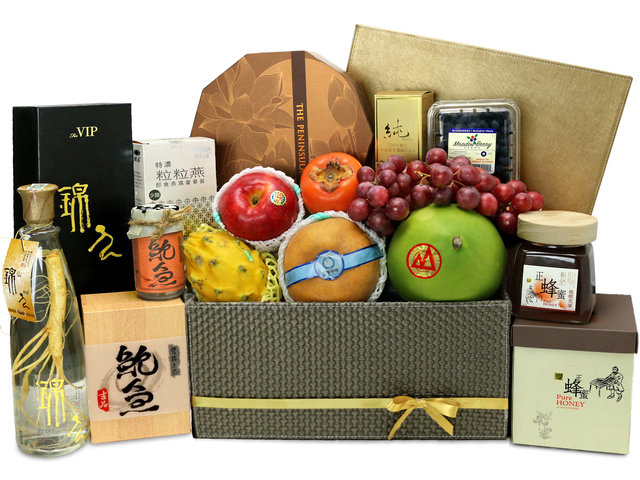 The gifts in this Peninsula mooncake mid-autumn basket Z12 are all about caring for the health of the gift recipients. The Peninsula Hotel Mini Custard Mooncake is one of the best-selling mooncakes in Give Gift Boutique Flower n Gift Shop. The valuable health supplement and fresh fruits are the best gift choice for the elders.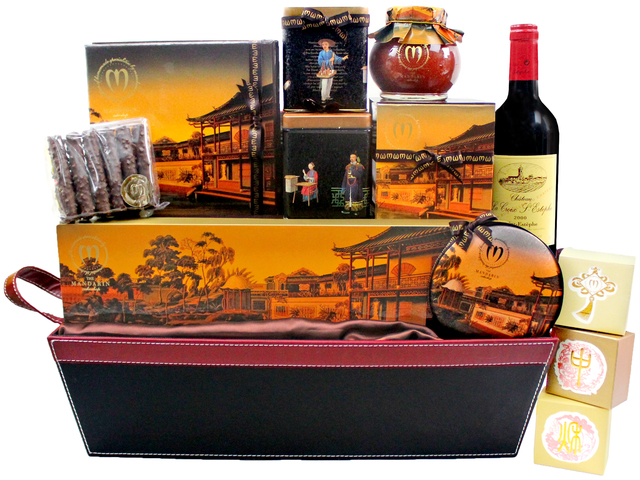 As one of the best hotels in Asia, Mandarin Oriental Hotel will not be disappointing regarding their gifts. The Mid-Autumn Fruit Basket Mandarin Oriental Hotel - Wine Food Hamper M60 looks clean and clear with a strong traditional Chinese style. It is the best choice of gift-giving as business corporate gifts and gifts for the clients.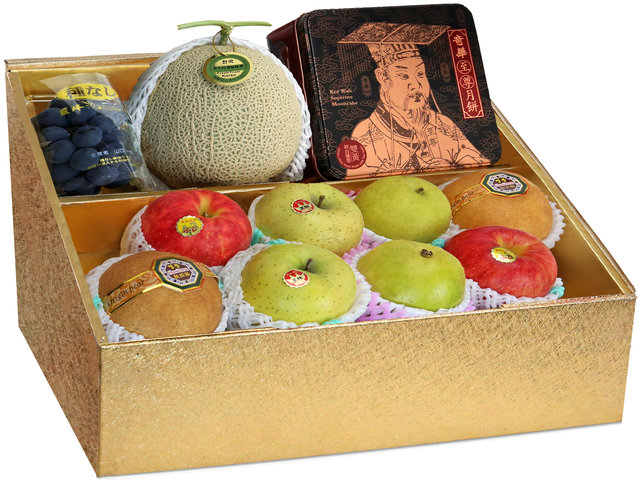 Accompanied us to grow up, Kee Wah mooncake is one of the most authentic Hong Kong tastes in memory! The Classic Kee Wah Double Egg Yolks Supreme Mooncake X Japanese Green House Kyoho grapes X South Korea Greenhouse Melon X Japan Aomori Apple X Japanese Orin Apple X Japanese crystal peal X Korean crystal pear. Are you ready to order this tempting gift basket?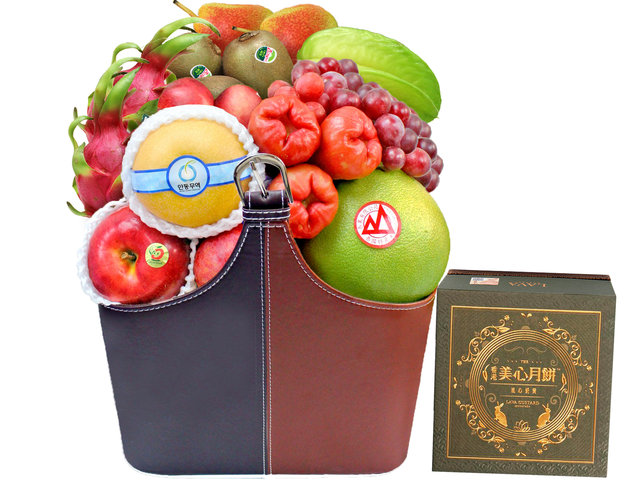 Last but not least. This well packing Maxim's Lava Custard Mooncake basket P35 is super attractive to those who love fruits; ten kinds of fruits are selected for this MAF gift basket and the amazing Maxim's Lava Custard Mooncake was added to it to complete the fantastic taste of Mid-autumn Festival.
For more Mid-Autumn Food gift baskets, please visit the official website of Hong Kong Give Gift Boutique.
Correlative Articles:
How to Identify Real and Fake Mooncake of Hong Kong Peninsula Hotel?
Kee Wah Mooncake| Mid-Autumn Gifts| Best Gifts For Elderly| Hong Kong Memory
Top 5 Mid-Autumn Festival Gifts Recommendations
Maxim's Lava Custard Mooncake-The Mooncake Fever in Hong Kong
HK Give Gift Boutique Mid-Autumn Mooncakes Collection| Bakeries & Hotels
This is a Hong Kong GGB original '
Mid-Autumn Festival Gift Hamper One-Stop Shopping—— Hong Kong Give Gift Boutique
' blogpost.