When our friends or family members are ill and have to stay in hospital, the best way for us to show concern is to visit them in the hospital. With the traditional education we accepted, it is not polite to visit friends or families in the hospital without bringing any gifts; therefore, many people choose to bring get-well-soon flower gifts or send fruit baskets to the hospital to express their love and good manner. However, as patients in hospital, they are weaker and more sensitive than the healthy ones in some ways, so understanding what flower/fruit gifts to send to the hospital is vital. This time, HK Give Gift Boutique takes some floral gifts from our online flower shop as examples to explain to you what kind of flower gift is best as get-well-soon gifts and the taboo of sending flowers to the hospital.
1. Variety of Get-Well-Soon Flowers
It is a nice thing to send our best wishes to the patients, but it would be best to know the patients' preferences and health condition in advance to avoid sending out inappropriate flowers. There are different types of flowers suitable as gifts to the hospital, for example, carnations, sunflowers, lilies, tulips, light-colored roses and bellflowers, etc. These flowers are basically light-colored with slight fragrance, which help the patients to feel relaxed. On the contrary, if the flowers have strong aromatic fragrance, it will easily cause patients' discomfort; some even find it difficult to breathe. For those who are allergy to pollen, the best gift to send to the hospital would be the preserved flower gifts as they are as pretty as fresh flowers but made with special technique so no pollen remains. One important thing to remember though regarding gift giving to patients in hospital, that is, try to avoid sending potted flowers to the hospital as these flowers have roots, which means "your illness have roots and will not recover soon" in Chinese.
2. Number of flowers send to the hospital
Some friends may not pay that much attention to the number of flowers, but for the elderly members of the family, it matters a lot. They think that the numbers of bad luck will affect the gift recipients, so we need to be more careful when buying flower gifts on our own. The taboo numbers are 3, 4, 9, and 13. Three is generally the amount used by people when they worship their gods; so sending three flowers as gift is very disrespectful to the patients. The homonym of four is death in Chinese; no doubt that is also a taboo. The meaning of nine is good for other occasions, but for a patient who suffers for a long time is more a curse than a blessing. Thirteen is the No. 1 taboo for Westerners or Christians and Catholics. Because the "Black Friday" comes on the Friday of the 13th; and there are various legends about religion and mythology that are not good for the number 13, so many people will avoid it. The suggested amount of flowers to send is 8 or 10 as these are good meaning numbers especially for Chinese. If you order flower gifts directly from the flower shop, you don't have to worry about this problem. For the customers who want to buy floral gifts and send to the hospital, ordering from the flower gift shop is the best option.
Get Well Soon flowers recommendation of Give Gift Boutique: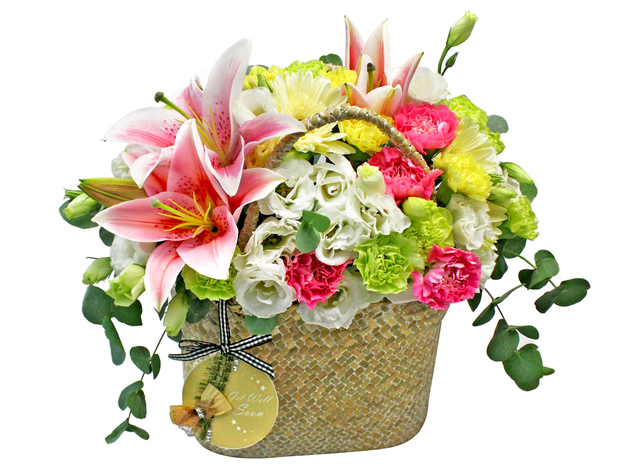 This flower basket contains:
pink lilies
Three color Carnation
and other accompanying flower and leaves of the same color scheme
arranged in a light color weaven basket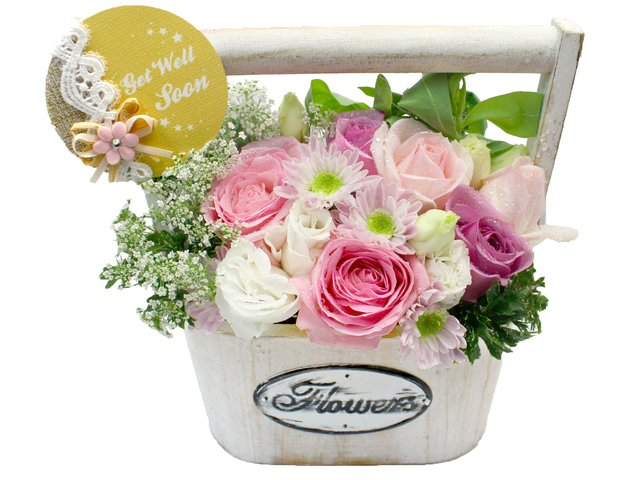 This flower basket contains:
Tow different pink Roses
Purple Rose
Matching flower and leaves
These two lovely flower basketsare suitable to send to hospitals as get-well-soon gifts to express your love and care. The exquisite greeting card is a bonus for you to write your best wishes to the gift recipients, to wish them a speedy recovery.