Ko Shan Theatre Information
Ko Shan Theatre is a dedicated venue for Cantonese opera that managed by Leisure and Cultural Services Department (LCSD). The Theatre is situated in Ko Shan Road Park, Hung Hom, and first opened in 1983.
After several reconstruction and expansions, there are currently two buildings. The major facility of old wing is the Theatre with 1,031 seats, used for large-scale traditional opera performances. Committee Room and two Rehearsal Rooms located at the 1/F, mainly hired by local organisation, for holding varying singing workshops. New Wing Auditorium provides 596 seats, which is suitable for medium-scale performances, experimental productions and performances by budding troupes. Other new wing facilities include Exhibition Gallery, Rehearsal Rooms, Singing Practice Rooms and Function Room.
OLD WING
1/F : Committee Room
  Rehearsal Rooms
G/F : Theatre
NEW WING
4/F : Singing Practice Room (1),(2)&(3)
  Function Room
2/F : Rehearsal Room (1),(2)&(3)
1/F : Exhibition Gallery
G/F : Auditorium
The programme of Ko Shan Theatre usually start at 2pm-2:30pm or 7pm-7:30pm. We offer comprehensive fruit basket and flower basket series for Ko Than Theatre. Other than providing professional delivery service, we can also arrange inquiry for the information of the programme. The general delivery time is 1-3 hours before the start of promgramme.
Opening hours:
9am to 11pm daily.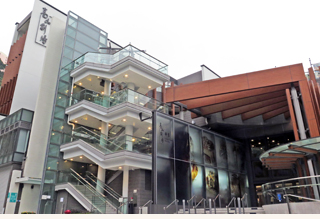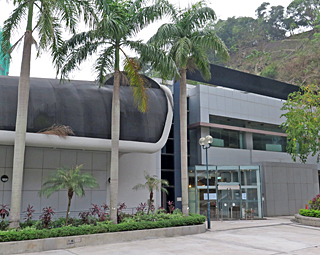 Address: 77 Ko Shan Road, Hung Hom, Kowloon

Ko Shan Theatre Telephone: 2740 9222

Flower/Fruit/Orchid Ordering Telephone: 2736 6670

Ko Shan Theatre Most ordered exhibit/performance flower and gifts (last 30 days)
stand
orchid
fruit
Ko Shan Theatre Map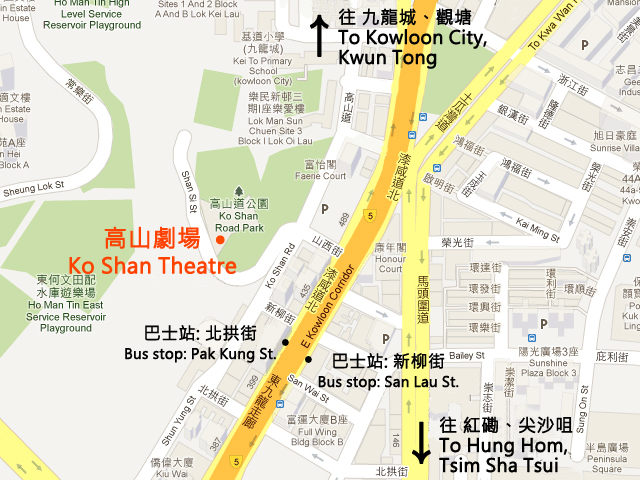 Ko Shan Theatre How to reach by MTR
Take minibus 27M at EXIT B2 of Mong Kok MTR Station
Ko Shan Theatre Directions by Bus and Mini-bus

KMB 5

Fu Shan <> Star Ferry

via: San Po Kong, Tsim Sha Tsui

KMB 11

Diamond Hill Station <> Kowloon Station

via: San Po Kong, Jordan

KMB 14

Yau Tong <> China Ferry Terminal

via: Kwun Tong, Jordan

KMB 26

Shun Tin Est. <> Tsim Sha Tsui East

via: Choi Hung, Jordan

KMB 93K

Po Lam <> Mong Kok East Station

via: Kwun Tong, Jordan

KMB/NWFB 101

Kwun Tong (Yue Man Square) <> Kennedy Town

via: Wan Chai, Central

KMB/CTB 107

Kowloon Bay <> Wah Kwai Est.

via: Causeway Bay, Aberdeen

KMB 108

Kai Yip <> Braemar Hill

via: Kai Tak, Causeway Bay

KMB/NWFB 111

Ping Shek Est. <> Central (Macau Ferry)

via: Wan Chai, Central

KMB/NWFB 116

Tsz Wan Shan (Central) <> Quarry Bay

via: Causeway Bay, North Point

mini-bus 27M

Lok Man Sun Chuen <> Mong Kok Station

via: Ho Man Tin

mini-bus 105

Tseung Kwan O <> Ko Shan Theatre
More about Ko Shan Theatre
The Ko Shan Theatre was first opened in 1983, which is the most important venue for Cantonese opera in Hong Kong. Because of the semi-open design, the former venue suffered from inclement weather and noise problems, an improvement project started in 1995, to provide better facilities and environment. The former amphitheatre was demolished and rebuilt with an air-conditioned foyer block housing rehearsal facilities, committee room, exhibition facilities and URBTIX box office.
To support the development of Cantonese opera in Hong Kong, Cantonese Opera Advisory Committee was established by the Home Affairs Bureau in 2004. A series of measures were introduced, including a special advance booking service and the construction of an annex building for the Ko Shan Theatre. The construction of the Annex Building was started in 2010, and expected to be completed in June 2013.
The 5-storey Annex Building has an auditorium with 590 seats, also include rehearsal rooms, singing practice rooms, a multi-purpose function room, an exhibition hall, a photographic studio, a resource centre, a tea house, a souvenir shop, a basement car park and a roof garden, etc. It is expected that the new auditorium will further enhance the Ko Shan Theatre's functions as a dedicated venue for Cantonese opera for both established and budding Cantonese opera artists/troupes for performances, training, rehearsals and research.
Besides, large Lantern Carnivals are held when Spring Lantern Festivals and Mid-autumn festival.