Sunbeam Theatre Information
Maps, MTR/Bus Direction, Order Exhibit Flower & Gift, Event Schedule
Sunbeam Theatre Information
Sunbeam Theatre is located at North Point and opened in 1972, which is the largest performance venue for Cantonese Opera in Hong Kong Island currently.
Sunbeam Theatre is initially managed by Silver Entertainment Co., mainly to show movies. In 1980, The Sunbeam Entertainment Limited took over the operations. In 1988, theatre was became managed by United Arts Entertainment Co. and began leased to Cantonese Opera troupes, lots of opera were then performed.
Until 1990s, the development of Cantonese Opera began to decline, Sunbeam Theatre rise to attention repeatedly since the renewals of contract.
In February 2012, Sunbeam Theatre faced to to closure crisis again. However, the Prime-day drama group founded by Mr. Li Juming renewed successfully the last moment. The role of the Sunbeam Theatre could hence be continued.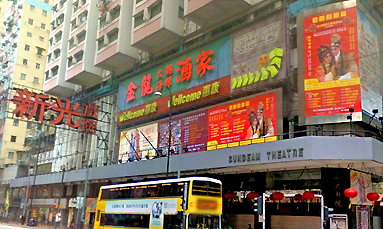 Address: 423 King's Road, North Point, Hon Kong

Sunbeam Theatre Telephone: 2563 2959

Flower/Fruit/Orchid Ordering Telephone: 2736 6670

Sunbeam Theatre Most ordered exhibit/performance flower and gifts (last 30 days)
stand
orchid
fruit
Sunbeam Theatre Map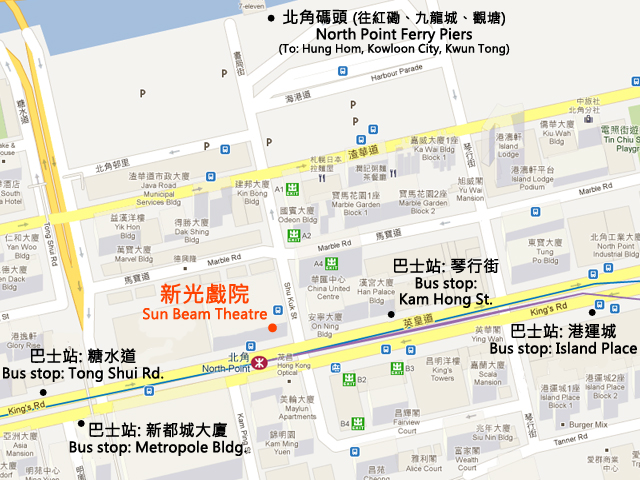 Sunbeam Theatre How to reach by MTR
2 minutes walk from Exit B1, North Point Station.
Sunbeam Theatre Directions by Bus and Mini-bus

NWFB 2

Grand Promenade <> Central (Macau Ferry)

via: Causeway Bay, Central

NWFB 2A

Yiu Tung Est. <> Wan Chai Ferry

via: Causeway Bay, Wanchai

CTB 8X/19

Siu Sai Wan <> Happy Valley

via: Chai Wan, Causeway Bay

CTB 10

North Point Ferry <> Kennedy Town

via: Wanchai, Causeway Bay

NWFB 18P

North Point <> Kennedy Town

via: Wanchai North

NWFB 23

North Point Ferry <> Pokfield Road

via: Wanchai, Mid-Levels

NWFB 27

North Point Ferry <> Braemar Hill

NWFB 38

Chi Fu Fa Yuen <> North Point Ferry

via: Aberdeen, Wong Chuk Hang

NWFB 42

Wah Fu Est. <> North Point Ferry

via: Aberdeen, Wong Chuk Hang

NWFB 63/65

Stanley <> North Point Ferry

via: Repulse Bay, Causeway Bay

CTB 77

Tin Wan Est. <> Shau Kei Wan

via: Aberdeen, Wong Chuk Hang

NWFB 81

Hing Wah Est. <> Lai Tak Tsuen

via: Chai Wan, Shau Kei Wan

NWFB 82

Siu Sai Wan <> North Point Ferry

via: Chai Wan, Shau Kei Wan

CTB 85

Siu Sai Wan <> Braemar Hill

via: Heng Fa Chuen, Shau Kei Wan

CTB 99

South Horizons <> Shau Kei Wan

via: Ap Lei Chau, Wong Chuk Hang

KMB/CTB 102

Mei Foo <> Shau Kei Wan

via: Cheung Sha Wan, Mong Kok

KMB/NWFB 106

Wong Tai Sin <> Siu Sai Wan

via: Kowloon City, Hung Hom

KMB/NWFB 110

Shau Kei Wan <> Tsim Sha Tsui East

via: Jordan, Tsim Sha Tsui

KMB/NWFB 112

So Uk Est. <> North Point

via: Sham Shui Po, Mong Kok

KMB/NWFB 116

Tsz Wan Shan (Central) <> Quarry Bay

via: Kowloon City, To Kwa Wan

KMB/NWFB 601

Po Tat Est. <> Admiralty (East)

via: Sau Mau Ping, Kwun Tong

KMB/CTB 619

Shun Lee Est. <> Central (Macau Ferry)

via: Ngau Tau Kok, Kwun Tong

KMB/CTB 671

Diamond Hill Station <> Ap Lei Chau

via: San Po Kong, Kwun Tong

KMB/NWFB 680

Ma On Shan <> Admiralty (East)

via: City One Shatin, Tate's Cairn Tunnel

KMB/CTB 690

Tseung Kwan O <> Central (Exchange Square)

via: Po Lam, Lam Tin
Sunbeam Theatre Exhibits and Events schedule
| Exhibit/Event Venue | Exhibit/Event Name | Date | Time Details | Hall Name | Organizer/Performer | Category |
| --- | --- | --- | --- | --- | --- | --- |
| Sunbeam Theatre | 雙龍丹鳳霸皇都 / 豔陽長照牡丹紅 (陳鴻進, 龍貫天, 一点鴻, 梁心怡, 鄧美玲) | 20/ 01/ 2019 to 21/ 01/ 2019 | 7:30pm | 1 院 | | 7:30pm   |
| Sunbeam Theatre | 龍鳳呈祥唱家班 (梁文超, 群星, 陳慧思, 陳振江, 黃德正, 黎駿聲) | 22/ 01/ 2019 | 7:15pm | 1 院 | 星級唱家班 | 7:15pm   |
| Sunbeam Theatre | 葉南斯藝術作品好友專場 東華慈善晚會 (宋洪波, 李秋元, 林穎施, 王志良, 群星, 譚仿芳) | 24/ 01/ 2019 | 7:15pm | 1 院 | 紫荊匯藝軒 | 7:15pm   |
| Sunbeam Theatre | 允文允武唱家班 (群星) | 25/ 01/ 2019 | 25/1/2019 | 1 院 | 星級唱家班 | 25/1/2019   |
| Sunbeam Theatre | 雷霆金曲夜 (崔玉梅, 李翠翠, 白慶賢, 群星, 黃偉坤) | 28/ 01/ 2019 | 7:15pm | 1 院 | 漢樂軒 | 7:15pm   |
| Sunbeam Theatre | 穎秀聲施戲曲夜 (曉毅, 李秋元, 林穎施, 王志良, 藝青雲, 黃偉坤) | 29/ 01/ 2019 | 7:30pm | 1 院 | 穎施藝術中心 | 7:30pm   |
| Sunbeam Theatre | 粵曲會知音 (龍貫天, 群星, 陳慧思) | 30/ 01/ 2019 | 7:00pm | 1 院 | 大坑譚公會 | 7:00pm   |
| Sunbeam Theatre | 粵藝文化傳承耀港島 (龍貫天, 周潔冰, 王志良, 群星, 謝國璋, 陳慧思) | 31/ 01/ 2019 | 7:00pm | 1 院 | 紫荊匯藝軒香港粵劇曲藝協會 | 7:00pm   |
| Sunbeam Theatre | 陳三愛五娘 (吳美英, 呂洪廣, 鄭詠梅, 陳嘉鳴, 黎耀威, 一点鴻, 李婉誼, 蓋鳴暉, 陳鴻進) | 08/ 02/ 2019 to 14/ 02/ 2019 | 7:30pm | 1 院 | 新光中國戲曲文化 | 7:30pm   |
| Sunbeam Theatre | 風雪情緣 (吳美英, 呂洪廣, 陳嘉鳴, 陳鴻進, 黎耀威, 蓋鳴暉) | 16/ 02/ 2019 | 7:30pm | 2 院 | 鳴芝聲劇團 | 7:30pm   |
| Sunbeam Theatre | 天賜良緣 (吳美英, 呂洪廣, 陳嘉鳴, 陳鴻進, 黎耀威, 蓋鳴暉) | 17/ 02/ 2019 | 1:30pm | 1 院 | 鳴芝聲劇團 | 1:30pm   |
| Sunbeam Theatre | 九龍樂善堂主辦 龍鳳爭掛帥 (吳美英, 呂洪廣, 陳嘉鳴, 陳鴻進, 黎耀威, 蓋鳴暉) | 17/ 02/ 2019 | 7:30pm | 1 院 | 鳴芝聲劇團 | 7:30pm   |
| Sunbeam Theatre | 柳毅奇緣 / 九天玄女 (吳美英, 呂洪廣, 陳嘉鳴, 陳鴻進, 黎耀威, 蓋鳴暉) | 18/ 02/ 2019 to 19/ 02/ 2019 | 7:30pm | 1 院 | 鳴芝聲劇團 | 7:30pm   |
| Sunbeam Theatre | 灣仔區文娛康樂體育會主辦 三笑姻緣 (吳美英, 呂洪廣, 陳嘉鳴, 陳鴻進, 黎耀威, 蓋鳴暉) | 20/ 02/ 2019 | 7:30pm | 1 院 | 鳴芝聲劇團 | 7:30pm   |
| Sunbeam Theatre | 冠劇坊主辦 俠盜胭脂 (吳美英, 呂洪廣, 陳嘉鳴, 陳鴻進, 黎耀威, 蓋鳴暉) | 21/ 02/ 2019 | 7:30pm | 1 院 | 鳴芝聲劇團 | 7:30pm   |
| Sunbeam Theatre | 深水埗區文娛康樂促進會主辦 搶新娘 (吳美英, 呂洪廣, 陳嘉鳴, 陳鴻進, 黎耀威, 蓋鳴暉) | 22/ 02/ 2019 | 1:30pm | 1 院 | 鳴芝聲劇團 | 1:30pm   |
| Sunbeam Theatre | 梁祝 (吳美英, 呂洪廣, 陳嘉鳴, 陳鴻進, 黎耀威, 蓋鳴暉) | 22/ 02/ 2019 | 7:30pm | 1 院 | 鳴芝聲劇團 | 7:30pm   |
| Sunbeam Theatre | 六福珠寶主辦 新蝶影紅梨記 (吳美英, 呂洪廣, 陳嘉鳴, 陳鴻進, 黎耀威, 蓋鳴暉) | 23/ 02/ 2019 | 7:30pm | 1 院 | 鳴芝聲劇團 | 7:30pm   |
| Sunbeam Theatre | 中國星火基金會主辦 紫釵記 (吳美英, 呂洪廣, 陳嘉鳴, 陳鴻進, 黎耀威, 蓋鳴暉) | 24/ 02/ 2019 | 1:30pm | 1 院 | 鳴芝聲劇團 | 1:30pm   |
| Sunbeam Theatre | 唐明皇 (吳美英, 呂洪廣, 陳嘉鳴, 陳鴻進, 黎耀威, 蓋鳴暉) | 24/ 02/ 2019 | 7:30pm | 1 院 | 鳴芝聲劇團 | 7:30pm   |
More about Sunbeam Theatre