Yuen Long Theatre Information
Yuen Long Theatre was opened in May 2000 and currently managed by Leisure and Cultural Services Department (LCSD). The major facility of Theatre is Auditorium with 923 seats, used for large-scale shows and performances.The programme of Auditorium usually starts at 2-3pm (day section) or 7-8pm (evening section).
Other facilities include Lecture Room, Dance Studio, Rehearsal Room and Function Room, mainly hired by the local organisation for holding classes, including Cantonese Opera, various dance, musical instruments, martial arts, etc. However, the Exhibition Corner at the foyer provides venue for small-scale exhibitions & cocktail receptions.
To promote the arts in the community, LCSD had started the Venue Partnership Scheme since April 2009. There are two present partners - Theatre Noir and Hong Kong Performing Stage of Cantonese Opera.
We offer comprehensive flower basket and fruit basket series for Yuen Long Theatre. We provides professional delivery service, where the general delivery time is 1-3 hours before the start of programme. Moreover, we can also arrange inquiry for the programme information, to ensure the correct delivery date and time.
Opening hours:
9am to 10pm daily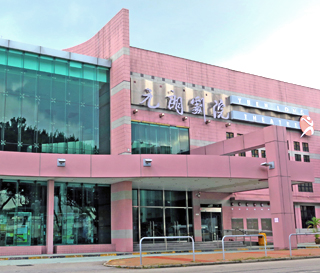 Address: 9 Yuen Long Tai Yuk Road, N.T.

Yuen Long Theatre Telephone: 2476 1029

Flower/Fruit/Orchid Ordering Telephone: 2736 6670

Yuen Long Theatre Most ordered exhibit/performance flower and gifts (last 30 days)
stand
orchid
fruit
Yuen Long Theatre Map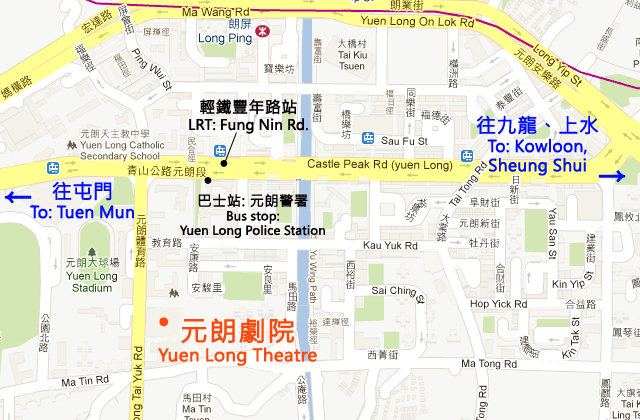 Yuen Long Theatre How to reach by MTR
Interchange with MTR bus K68 (towards Yuen Long Park) at Exit B, Long Ping Station; or
interchange with Light Rail 610/614/615/761P (Towards Tuen Mun / Tin Shui Wai) at Yuen Long Station to Fung Nin Road Stop.
Yuen Long Theatre Directions by Bus and Mini-bus

MTR-bus K68

Yuen Long Ind. Est. <> Yuen Long Park

via: Long Ping Staion

KMB 68X

Hung Shui Kiu <> Mong Kok

via: Cheung Sha Wan, Mong Kok

KMB 268B

Long Ping Station <> Hung Hom Ferry

via: Tsim Sha Tsui

KMB 268C

Long Ping Station <> Kwun Tong Ferry

via: Wong Tai Sin, Kwun Tong

KMB 269D

Tin Shui Wai (Tin Fu Court) <> Lek Yuen

via: Shatin Town

KMB 276/276P

Tin Shui Wai (Tin Tsz Est.) <> Sheung Shui

via: Sheung Shui Station

LWB E34

Airport <> Tin Shui Wai Town Centre

via: Tung Chung
More about Yuen Long Theatre
To cooperate the development of North-West New Territories, and the promotion of arts and cultural activities, Yuen Long Theatre was opened in May 2000 and managed by Leisure and Cultural Services Department.
The Auditorium is traditional proscenium theatre designed with 923 seats, including 734-seat stall and 189-seat balcony. It equipped with excellent sound, lighting systems and many other advanced theatrical facilities, which include 24 remote-controlled motorised drapes, which is mainly used for operatic performance, drama, dance and assembly performances.
The Lecture Room with 100-person capacity, providing projection screen on electric roller, a film projection system, slide projector, multi-media projector and piano, suitable for meetings, lectures, seminars and interest classes, etc.
Other facilities include Rehearsal Room, Dance Studio and Function Room, providing venues for rehearsals or small visual art performances, for citizens or groups.