Sha Tin Town Hall Information
Sha Tin Town Hall (STTH) was opened in 1987, and managed by Leisure and Cultural Services Department (LCSD) currently. STTH is close to Shatin MTR station and Shatin Central, which is 5 miniutes walk from Shatin Station. The facilities of STTH include Auditorium, Cultural Activities Hall, Exhibition Gallery, Lecture Rooms, Dance Studio, etc.
2/F : Auditorium (Balcony)
  Cultural Activities Hall
1/F : Exhibition Gallery
  Reception Lounge
P/F : Foyer Entrance
  Auditorium (Stalls)
  URBTIX Box Office
G/F : Conference Room
  Lecture Rooms
  Practice Rooms
  Dance Studio
  Music Studio
In addition, the Plaza outside Town Hall provides designated area for holding non-profit activities and events, whereas stage set up is available when necessary. "City Art Square" around the Plaza, 19 sculptures and public art installations designed by different artists are established. As same as other venues managed by LCSD, Sha Tin Town Hall implements the Venue Partnership Scheme since 2009 to promote arts in the community. The current partners are The Cantonese Opera Advancement Association and Trinity Theatre and The Radiant Theatre.
The programme of Sha Tin Town Hall Auditorium and Cultural Activities Hall usually start at 2pm-3pm (afternoon section) or 7pm-8pm (evening section). We offer comprehensive flower basket and fruit basket series for Sha Tin Town Hall. Other than providing professional Sha Tin Town Hall delivery service, we can also arrange inquiry for the information of the programme. The general delivery time is 1-3 hours before the start of promgramme.
Opening hours:
9am to 11pm daily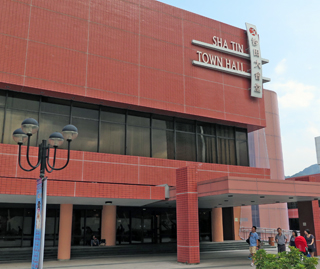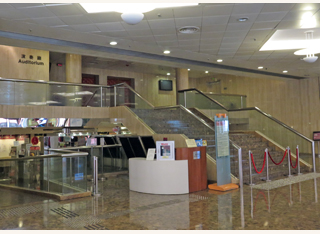 Address: 1 Yuen Wo Road, Sha Tin, N.T.

Sha Tin Town Hall Telephone: 2694 2509

Flower/Fruit/Orchid Ordering Telephone: 2736 6670
Sha Tin Town Hall Directions by Bus and Mini-bus

KMB 47X

Kwai Shing (E.) <> Chun Shek Est.

via: Kwai Chung, Shing Mun Tunnel

KMB 48X

Tsuen Wan (Bayview Garden) <> Wo Che Est.

via: Tsuen Wan, Shing Mun Tunnel

KMB 49X

Tsing Yi Ferry <> Kwong Yuen Est.

via: Tsuen Wan, Shing Mun Tunnel

KMB 72

Tai Wo <> Cheung Sha Wan

via: Tai Po, CUHK

KMB 81

Wo Che Est. <> Jordan (To Wah Road)

via: Mong Kok, Jordan

KMB 85

Fo Tan (Shan Mei St.) <> Kowloon City Ferry

via: Lok Fu, To Kwa Wan

KMB 86

Wong Nai Tau <> Mei Foo

via: Shek Kip Mei, Cheung Sha Wan

KMB 89

Lek Yuen Est. <> Kwun Tong Station

via: Wong Tai Sin, Ngau Tau Kok

KMB 263

Tuen Mun Station <> Sha Tin Station

via: Tuen Mun Central

KMB 280X

Sha Tin (Sui Wo Court) <> Tsim Sha Tsui East

via: Jordan, Tsim Sha Tsui

KMB 299X

Sai Kung <> Shatin Central

via: Sai Sha Road

NWFB 798

Tiu Keng Leng Station <> Fo Tan

via: Tseung Kwan O

KMB/CTB 170

Sha Tin Station <> Wah Fu Est.

via: Causeway Bay, Aberdeen
More about Sha Tin Town Hall
To cooperate the development of Shatin New Town and promote the arts and cultural activities, government planned to construct a community arts arena since early 1980s. In 1987, Sha Tin Town Hall was opened and managed by Regional Council (Became Provisional Regional Council after the Transfer of Sovereignty in 1997). In 2000, STTH became managed by new established Leisure and Cultural Services Department since the reorganization of government in 2000.
To enhance the facilities, renovation works were performed in 2006 and 2009, renewing the facilities of Auditorium, including the stage floor, seats and acoustic shell.
Proscenium theatre designed Auditorium provides 1,372 seats, including 1,032-seat stall and 340-seat balcony. It can cater for orchestral concerts, drama, Chinese operas, dance and assembly performances. Hirers can also remove 73 seats of first 2 rows to set an orchestra pit.
Cultural Activities Hall also a proscenium theatre designed, providing 300 seats, which is used for small-scale performances, ceremonies, lectures and conferences.
Besides, STTH also provides 150-seat Exhibition Gallery for exhibitions, reception and conferences. Other facilities include Conference Room, Music Studio, Lecture Rooms and Practice Rooms, providing venue for meetings, lectures, rehearsals and other small-scale visual-arts performances.