Evangel Hospital is located in Argyle Street, Kowloon City, which is a self-financing, non-profit private hospital managed and operated by the Evangelical Free Church of China. The Hospital began as a joint project of the Evangelical Free Church of China and the Evangelical Free Church of America and started services as a medical centre since March 1965. The Hospital was then moved to its existing site with 3-storey building in 1967 and was formally named the Evangel Hospital.
Evangel Hospital is now being a five-story hospital with over 60 beds, providing obstetrics & gynecology, in-patient, general/specialist out-patient services. Hospital also provides allied health services include pharmacy, laboratory, physiotherapy, radiology, etc. Below show the major departments of Evangel Hospital.
4/F : Administrative Office
  Chaplain Office
  Little Chapel / Prayer Room
  Ward
3/F : Endoscopy Centre
  Operating Theatres
  Ward
2/F : Peri-Operative Centre
  Ward
1/F : Dental Department
  Chinese Medicine Clinic
  Physiotherapy Department
  Specialist Centre
G/F : Outpatient Department
  Radiology Imaging Department
Evangel Hospital Visiting hours:
09:00-22:00 daily
In addition, there are branch clinics at Sha Tin, Ngau Tau Kok, Cheung Sha Wan and To Kwa Wan, and Dental Centre in Choi Yiu Chuen, Lai King.
We offer "Baby Essentials" series for Evangel Hospital Obstetric unit, and Evangel Hospital fruit basket and recovery hamper "Get Well Soon" series. Other than providing professional Evangel Hospital delivery service, we can also arrange inquiry for the check-in information of the patient.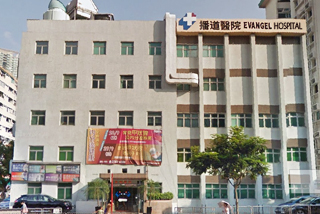 Address: 222 Angyle Street, Kowloon City, Kowloon

Evangel Hospital Telephone: 2711 5221

Flower/Fruit/Orchid Ordering Telephone: 2736 6670