North District Hospital Information
North District Hospital (NDH)is a public hospital with 600 beds, which is situated in Sheung Shui, N.T. NDH was opened in 1998 and it is currently a member of New Territories East Cluster under Hospital Authority.

Other than 24-hour A&E Service and Specialties In-Patient Service, NDH also provide various ambulatory care and community outreach services.

Visiting Hours:
5:30 pm to 7:30 pm daily



Address: 8 Po Kin Road, Sheung Shui, N.T.

North District Hospital Telephone: 2683 8888

Flower/Fruit/Orchid Ordering Telephone: 2736 6670

North District Hospital Most ordered Hospital and Get Well flower, fruit and gifts / New born baby gift (last 30 days)
getwell
baby
fruit
vase_minimal
North District Hospital Map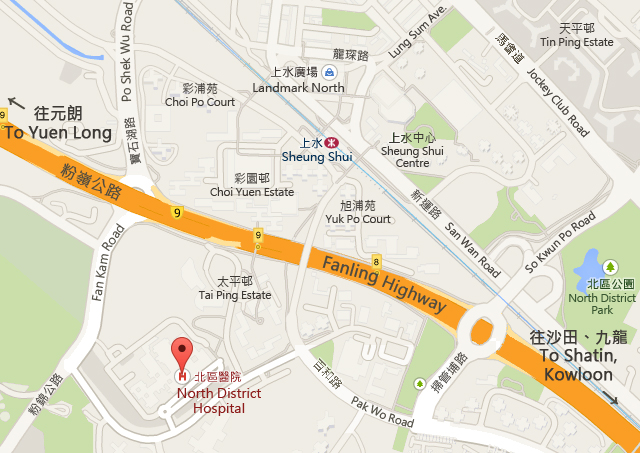 North District Hospital How to reach by MTR
15 minutes walk from Exit A1/B1, Sheung Shui Station; or
interchange KMB 273A/276A from Exit C, Sheung Shui Station.
North District Hospital Directions by Bus and Mini-bus

KMB 70K

Wah Ming Est. <> Ching Ho Est.

via: Luen Wo Hui, Sheung Shui Station

KMB 273A

Wah Ming Est. <> Choi Yuen Est.

via: Fanling Station, Sheung Shui Station

KMB 276A

Tin Shui Wai <> Tai Ping Est.

via: Tin Shui Wai
More about North District Hospital
The district that North District Hospital situated in, Sheung Shui, is included in the second phase of New Town development, which was started in late 1970s. According to the increasing population, government started to construct NDH, and began to operate in phases since 1998.
To enhance communication and cooperation between hospitals to improve the efficiency of performance and triage patients. Hospital Authority New Territories East Cluster was established in October 2001, covering Sha Tin, Tai Po and North Districts, serving around 1.1 million citizens. NDH provides 24-hour A&E service and Specialties out-patients service. It is also responsible for In-patient service (mainly include Clinical Pathology, Diagnostic Radiology, Oral Maxillofacial Surgery and Dentistry, and Neurosurgery) in the Cluster. Other Ambulatory services of NDH include Day Surgery, Electro Diagnostic Unit, Endoscopy Unit, etc.
Other hospitals and institutions:
Prince of Wales Hospital, Alice Ho Miu Ling Nethersole Hospital, Tai Po Hospital, Shatin Hospital, Shatin Cheshire Home, Bradbury Hospice.