Tuen Mun Hospital (TMH) was opened in 1990, which is the current leading hospital of New Territories West Cluster under Hospital Authority, serving over 1 million citizens in Tuen Mun and Yuen Long Districts. TMH provides 24-hour Accident & Emergency and comprehensive in-patient services, also offering several Ambulatory Care Centre and Specialist Out Patient Services. Besides, TMH is the only hospital to provide maternity services within the Cluster.
Consists of 11-storey Main Block, 4-storey Special Block and 14-storey Rehabilitation Block, Tuen Mun Hospital provides approx 1,800 beds.
MAIN BLOCK (Including Wards A,B,C,D,T)
10/F : Female Medicine & Geriatrics
   Renal Ward
9/F : Male Medicine & Geriatrics
  Clinical Oncology Ward; Isolation Ward
8/F : Orthopaedics & Traumatology
  Intensive Care Unit
7/F : Maternity; Delivery Suite; Care Baby Unit
6/F : Paediatrics; Medicine & Geriatric
5/F : Gynaecology; Medicine & Geriatric;
  Paediatrics & Adolescent Isolation Ward
4/F : Surgery
3/F : Orthopaedics & Traumatology
2/F : Ophthalmology / ENT
  Burn & Scald Unit / Surgical Unit
G/F : Accident & Emergency Unit
SPECIAL BLOCK (Including Ward E,F)
3/F : Integrated Day Ward
2/F : Psychiatry
1/F : Integrated Short Stay Ward
Visiting Hours:
17:30 to 20:30 daily (Except Isolation Wards)
We offer "Baby Essentials" series for Tuen Mun Hospital Obstetric unit, and Tuen Mun Hospital fruit basket and recovery hamper "Get Well Soon" series. Other than providing professional Tuen Mun Hospital delivery service, we can also arrange inquiry for the check-in information of the patient.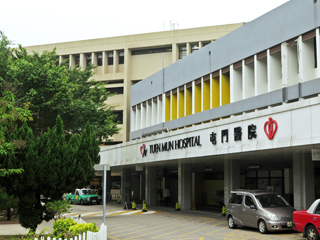 Address: 23 Tsing Chung Koon Road, Tuen Mun, N.T.

Tuen Mun Hospital Telephone: 2468 5111

Flower/Fruit/Orchid Ordering Telephone: 2736 6670