Hong Kong Sanatorium and Hospital Information
Hong Kong Sanatorium and Hospital, HKSH is a private hospital established in 1922 in Happy Valley, Hong Kong.

The hospital has more than 400 beds and various room types and facilities. It also has a 24 hours outpatient consultation service.

HKSH has a School of Nursing, affiliated with The Open University of Hong Kong, which trains nurses up to degree level. It is also affiliated with the Li Ka Shing Faculty of Medicine of the University of Hong Kong and provides clinical attachment opportunities for HKU medical students.

Major Departments:
Dept. of Obstetrics  27/F-29/F
Dept. of Dentistry   7/F
Dept. of Paediatrics  9/F
Ear, Nose & Throat   9/F
Intensive Care Unit  13/F
Nephrology Centre  10/F
Neurology Centre   10/F

Visiting hours:
8am to 10pm daily



Address: 2 Village Road, Happy Valley, Hong Kong

Hong Kong Sanatorium and Hospital Telephone: 2572 0211

Flower/Fruit/Orchid Ordering Telephone: 2736 6670

Hong Kong Sanatorium and Hospital Most ordered Hospital and Get Well flower, fruit and gifts / New born baby gift (last 30 days)
getwell
baby
fruit
vase_minimal
Hong Kong Sanatorium and Hospital Map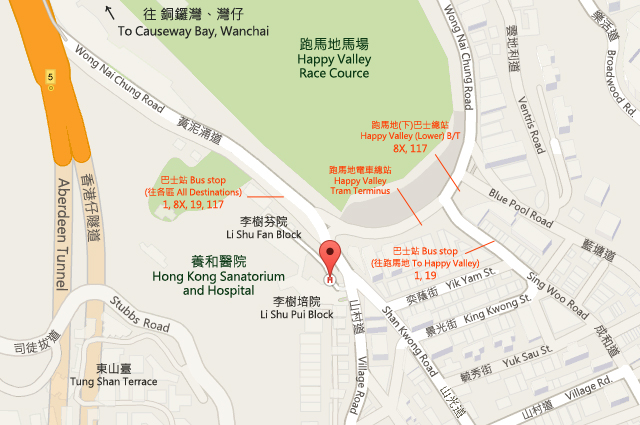 Hong Kong Sanatorium and Hospital How to reach by MTR
Hong Kong Sanatorium and Hospital Directions by Bus and Mini-bus

CTB 1

Kennedy Town <> Happy Valley (Upper)

via: Central, Wanchai

CTB 8X

Siu Sai Wan <> Happy Valley (Lower)

via: Chai Wan, North Point

CTB 19

Siu Sai Wan <> Happy Valley (Upper)

via: Chai Wan, North Point

KMB/CTB 117

Sham Shui Po <> Happy Valley (Lower)

via: Mong Kok, Cross Harbour Tunnel
More about Hong Kong Sanatorium and Hospital
In the early 1920s, Hong Kong's hospitals are handled by the colonial government or foreign churches, and in response to increased demand for health care. Hong Kong Sanatorium & Hospital, formerly known as "The Yeung Wo Nursing Home", was established in 1922 by a group of leading Chinese medical practitioners and prominent Hong Kong residents. It was converted from two buildings next to "The Happy Retreat" providing 28 beds.
At the beginning, Yeung Wo Nursing Home mainly deal with patients with lung disease, unit 1926 which Dr. Li Shufen was appointed as president.He introduced new facilities operation techniques, promoted improvement and renamed nursing home to Hong Kong Sanatorium and Hospital. With the development of the central block, more units start servicing and over 94 beds is provided.
Till March 1993 after reconstruction, new building is 17-stores. In addition to general ward, private and luxurious wards also offered for more comfort and privacy. At 2007, it became a 37-stores building and the tallest hospital building in Hong Kong, have more than 400 beds.