Matilda International Hospital Information
Matilda International Hospital is originated from the British businessman Mr. Granville Sharp made ​​in the will , and to commemorate his wife Ms. Matilda Lincolne named.

The Hospital was finally situated and developed on Mount Kellett, The Peak, which is the current location. Hospital was officially opened in 1907, which was the first non-profit private hospital established in Hong Kong.

Initially, the hospital did not reach the road, the only transportation were rickshaws and sedan, and only serve the European who living in the Peak District. After several expansion, Hospital gradually opened to all person. At present, the Hospital provides four buildings, with 102 beds, mainly to provide obstetric, surgical and nursing services.

Visiting hours:
Before 10pm daily



Address: 41 Mount Kellett Road, The Peak, Hong Kong

Matilda International Hospital Telephone: 2849 0111

Flower/Fruit/Orchid Ordering Telephone: 2736 6670

Matilda International Hospital Most ordered Hospital and Get Well flower, fruit and gifts / New born baby gift (last 30 days)
getwell
baby
fruit
vase_minimal
Matilda International Hospital Map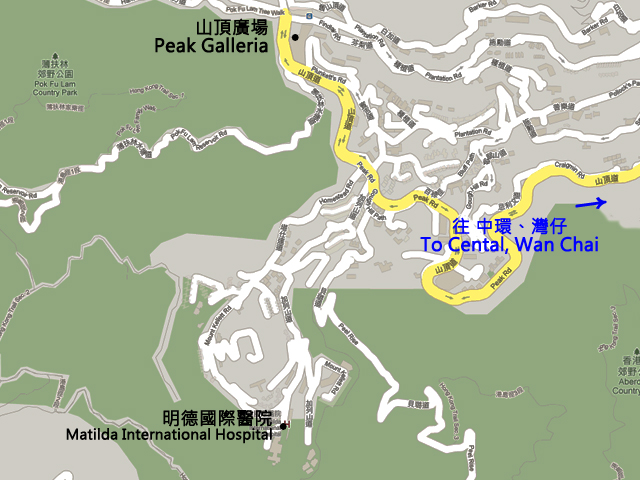 Matilda International Hospital How to reach by MTR
Interchange mini-bus 1 from Exit F, Hong Kong Station.
Matilda International Hospital Directions by Bus and Mini-bus

mini-bus 1

Central (Hong Kong Station) <> The Peak
More about Matilda International Hospital
In 1858, Granville Sharp and his wife Matilda Lincolne came to Hong Kong to start a new life. Granville worked on business development while Matilda help the needy and disadvantaged in the society.
In 19th century these couple passed away. According to Granville's will, he wanted to build a hospital to highlight the selfless spirit of his wife. The Hospital was finally situated and developed on Mount Kellett, The Peak and start taking patients in 1907. It was a 2-stories building with 4 different size wards, a small operating room, anesthesia room, pharmacy and around 20 beds. Mainly serve the European who living in the Peak District. After several expansion in 1920, they have Granville House.
In 1940, the hospital was changed to the military hospital and and suffered severe damage during World War II. In 1951, the hospital reopened and provided service to people with different nationalities. the new wing of the operating room was also equipped with the latest equipment. Hospital also started charge for service and became a famous hospital hospital in HK. Similar to luxury hotel design, hospital wards divided into private, double and standard suites. In addition to general medical equipment, NOW Broadband TV, free Wi-fi and phone service. Private room even has a balcony, DVD Players and CD player etc.
Matilda International Hospital has over a century of history. Hospital building was completed in 1906 and graded as Grade I historic buildings in 1992 and Grade II in 2009. Some buildings were even graded as Grade III in 2010.