Prince of Wales Hospital Information
Prince of Wales Hospital is a public hospital located in Shatin, which is a regional acute hospital serving New Territories East. It covers the largest geographical area amongst the seven clusters of the Hospital Authority.

Prince of Wales Hospital was established in 1984, with currently nine major medical buildings, including Main Clinical Block and Trauma Centre (Ward A,B,C), Special Block (Block EF), Day Treatment Block (Block HKLM), Li Ka Shing Specialist Clinic, Eye Centre, etc, providing over 1,300 beds. Below show the location of major department:

Main Clinical Block and Trauma Centre
12/F: Medical Ward / Infectious Disease Ward
11/F: Medical Ward
10/F: Medical Ward / Poison Treatment Centre
   Medical Ward (Coronary Care Unit / High Dependency Unit)
9/F : Orthopaedic Ward
8/F : Surgical Ward
7/F : Medical Ward (Stroke Unit)/ Neurosurgery High Dependency Unit
   Surgical (Neurosurgery)
   Surgical (Cardiothoracic)
6/F : Private Ward
5/F : Intensive Care Unit
4/F : Intensive Care Unit
   Integrated Ward (Eye / ENT Head & Neck / Dental)
2/F : Emergency Medical Ward
G/F : Accident & Emergency Department Special Block (Block EF)
9/F : Private Maternity Ward
8/F : Postnatal Ward
7/F : Antenatal Ward
6/F : Delivery Suite
5/F : Obstetrics & Gynaecology Day Ward
   Gynaecology Ward

Day Treatment Block & Children Wards (Block HKLM)
11/F: Paediatric Ward
   Paediatric Isolation Ward
10/F: Medical Ward
7/F : Paediatrics Surgical & Orthopaedic Wards
6/F : Neonatal Unit
   Special Care Baby Unit
   Paediatric Intensive Care & High Dependency Unit

Prince of Wales Hospital is also a teaching hospital for the Chinese University of Hong Kong, and establishes Obstetric training school for nurses.

Visiting hours:
12:00-13:00 & 17:30-19:30 daily
(Except for Isolation Wards and Paediatric Wards)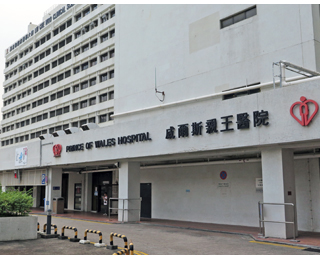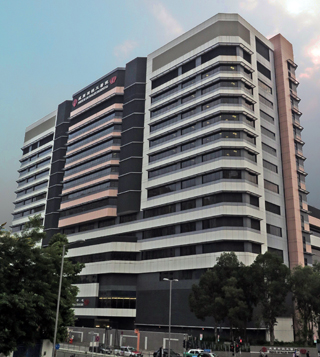 Address: 30-32 Ngan Shing Street, Shatin, N.T.

Prince of Wales Hospital Telephone: 2632 2211

Flower/Fruit/Orchid Ordering Telephone: 2736 6670

Prince of Wales Hospital Most ordered Hospital and Get Well flower, fruit and gifts / New born baby gift (last 30 days)
getwell
baby
fruit
vase_minimal
Prince of Wales Hospital Map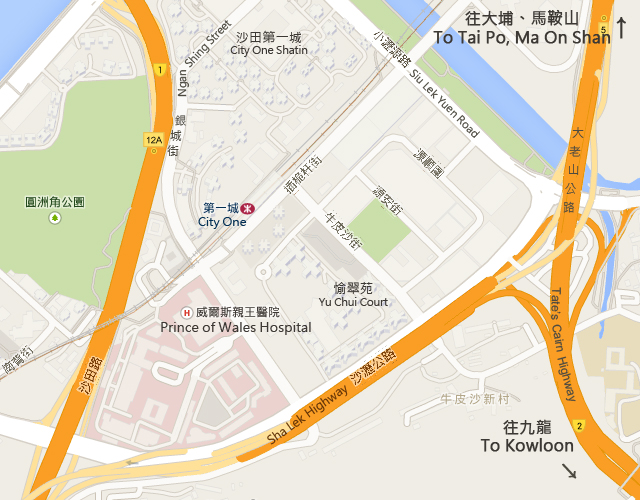 Prince of Wales Hospital How to reach by MTR
5 minutes walk from Exit B, City One Station.
Prince of Wales Hospital Directions by Bus and Mini-bus

KMB 49X

Tsing Yi Ferry <> Kwong Yuen Est.

via: Tsuen Wan, Shing Mun Tunnel

KMB 73A

Fanling (Wah Ming Est.) <> Yu Chui Court

via: Tai Po, CUHK, Fo Tan

KMB 80K

Sun Chui Est. <> Yu Chui Court

via: Tai Wan, Shatin Central

KMB 82K

Mei Lam Est. <> Wong Nai Tau

via: Tai Wai

KMB 82X

Ravana Garden <> Wong Tai Sin

via: Tate's Cairn Tunnel, Diamond Hill

KMB 84M

Chevalier Garden <> Lok Fu

via: Tate's Cairn Tunnel, Wong Tai Sin

KMB 85A

Kwong Yuen Est. <> Kowloon City Ferry

via: Lok Fu, To Kwa Wan

KMB 86

Wong Nai Tau <> Mei Foo

via: Shek Kip Mei, Cheung Sha Wan

KMB 89X

Sha Tin Station <> Kwun Tong Station

via: Tate's Cairn Tunnel, Kowloon Bay

KMB 281A

Kwong Yuen Est. <> Kowloon Station

via: Mong Kok, Tsim Sha Tsui

KMB/CTB 182

Yu Chui Court <> Central (Macau Ferry)

via: Wanchai, Central
More about Prince of Wales Hospital
Sha Tin started to develop in 1970. To accommodate Sha Tin New Town development and increasing population, Government began to build a full-scale hospital in late 1970s. Hospital officially opened in 1984, started up with 5 buildings including main block, special buildings, professor building, medical building and specialist clinics. To meet the demand, hospital renovated and expanded several times. The expansion in 2007 rebuilt tennis courts and helipad to a 13-storey building, opened in 2010.
In order to strengthen the cooperation between hospitals and increase efficiency in managing patients, Hospital Authority Kowloon Central Cluster was established in October 2001, serving Sha Tin, Tai Po and Northern Districts. It covers the largest geographical area amongst the seven clusters of the Hospital Authority with population around 1.1 million. Concentrated on acute and comprehensive specialist inpatient services.
Hospitals and medical institutions in New Territories East Cluster included:
Alice Ho Miu Ling Nethersole Hospital, Tai Po Hospital, North District Hospital, Shatin Hospital, Shatin Cheshire Home, Bradbury Hospice.