United Christian Hospital Information
United Christian Hospital (UCH) located in Kwun Tong, which is opened in 1973. UCH is currently the leading hospital of Kowloon East Cluster under Hospital Authority, mainly to provide specialist services and 24-hour A&E service. It also provides several Specialty Centres, Ambulatory Services and Allied Health Services. UCH even is the only hospital to provide maternity services within the Cluster, serving around 1 million citizen in Kwun Tong and Sai Kung Districts.

Visiting hours:
Obstetrics : 12:00-13:00 & 18:00-20:00
General Wards : 12:00-13:00 & 18:00-20:00
Paediatrics Wards : 08:00-20:00 daily
Rehabilitation & Palliative Care Ward : 12:00-14:00 & 16:00-20:00



Address: 130 Hip Wo Street, Kwun Tong, Kowloon

United Christian Hospital Telephone: 2379 9611

Flower/Fruit/Orchid Ordering Telephone: 2736 6670

United Christian Hospital Most ordered Hospital and Get Well flower, fruit and gifts / New born baby gift (last 30 days)
getwell
baby
fruit
vase_minimal
United Christian Hospital Map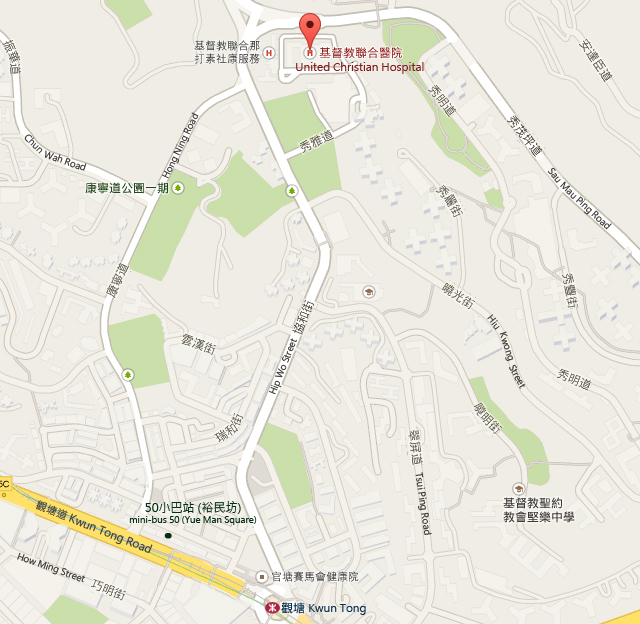 United Christian Hospital How to reach by MTR
Interchange mini-bus 50 from exit A1 (Yue Man Square), Kwun Tong Station.
United Christian Hospital Directions by Bus and Mini-bus

KMB 11C

Chuk Yuen Est. <> Upper Sau Mau Ping

via: Diamond Hill, Kowloon Bay

KMB 11X

Upper Sau Mau Ping <> Hung Hom Station

via: To Kwa Wan, Hung Hom

KMB 13D

Po Tat Est. <> Island Harbour View

via: Kowloon City, Mong Kok

KMB 13X

Po Tat Est. <> Tsim Sha Tsui (E.)

via: Ngau Tau Kok, Jordan

KMB 23

Kwun Tong Ferry <> Shun Lee Est.

KMB 23M

Lok Wah Est. <> Shun Lee Est.

via: Ngau Tau Kok Station

KMB 26M

Choi Hung <> Kwun Tong

via: Choi Wan Est., Shun Lee Est.

KMB 28B

Choi Fuk Est. <> Kai Yip Est.

via: Ngau Tau Kok Station

KMB 95M

Tsui Lam <> Kwun Tong (Elegance Rd.)

via: Ngau Tau Kok Station

mini-bus 50

Kwun Tong (Yue Man Square) <> United Hospital
More about United Christian Hospital
United Christian Hospital was opened in 1973 and founded through the cooperation of the Hong Kong Christian Council and the Alice Ho Miu Ling Nethersole Hospital, which is the first acute general hospital in East Kowloon. UCH currently has eight buildings, providing approx 1,400 beds:
Block P - New Wing
Block S - Sir Run Run Shaw Building
Block F - Ng Wing Tong Memorial Block
Block G - Fung Long Ting Memorial Block
Block H
Block J - Chen Kou Bun Building
Block K - Lam Woo Hall
Block L - Lam Chik Ho Hall
Where the main medical facilities are situated in Blocks P & S.
To enhance communication and cooperation between hospitals to improve the efficiency of performance and triage patients. Hospital Authority Kowloon East Cluster was established in October 2001, serving approx 1 million citizens in Kwun Tong & Sai Kung Districts. UCH became the leading hospitals in the cluster, mainly providing A&E services, specialties in-patient and out-patient services. Other services of UCH include specialty centres, ambulatory services, allied health services, community nursing services, etc.
Other hospitals and institutions:
Tseung Kwan O Hospital, Haven of Hope Hospital